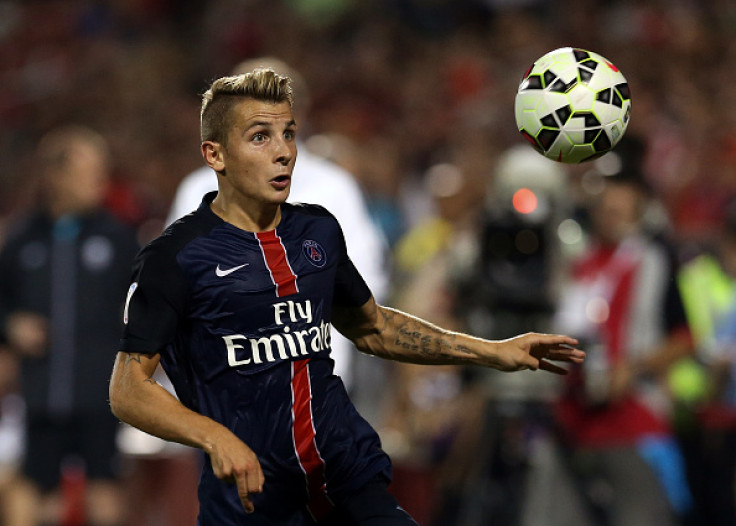 Liverpool are considering a move in signing Paris Saint-Germain defender Lucas Digne, according to the Mirror.
The Reds have the services of Alberto Moreno, who arrived from Sevilla last summer and Jose Enrique. The latter has one year left on his contract and is not included in Brendan Rodgers' plan for the next season.
The 29-year-old has been left out of Liverpool's pre-season tour to Australia and South East Asia. He, along with Italian duo of Mario Balotelli and Fabio Borini have stayed back at Merseyside.
The English club will allow Enrique to leave if Liverpool receive the right offer and Rodgers has set his sights on Digne as another left-back in the squad. Moreno had a mixed debut season.
The Northern Irishman wants a player to challenge the Spain international for a place in the starting XI. Digne has been struggling to cement a place at PSG as he has been the second choice left-back, behind Maxwell.
The Ligu1 champions signed the 22-year-old from Lille in 2013. It should be seen whether they will let their player leave in the summer transfer window. Also, it is still not clear whether Liverpool are looking for a loan move or a permanent transfer for Digne.
During the 2014/15 season, the French international started only 14 league games for PSG. Lack of playing time has made Digne unhappy and he is looking for an exit from PSG this summer, so as to feature regularly and make it to the national squad for the Euro 2016.
Meanwhile, PSG manager Laurent Blanc has admitted that Digne wants to leave the club. However, the Frenchman claims the club will not sanction the defender's transfer.
"First, it is he who very clearly asked to leave. For now, he is with us, he is very professional, he trains very well and has prepared excellently. He has shown the results in friendlies," Blanc said, as quoted by the Liverpool Echo.
"This is firstly a very good thing for him and possibly for us, should he stay with us this season."