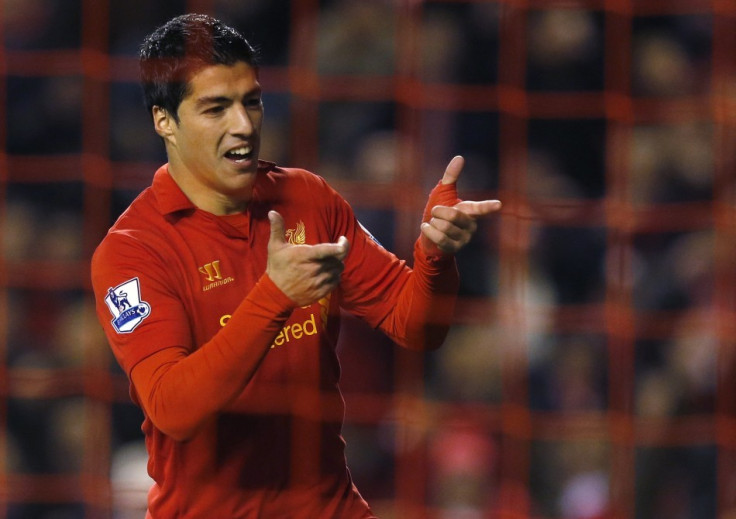 Bundesliga champions Bayern Munich have joined Real Madrid in the race for Liverpool striker Luis Suarez, according to the Metro. The Uruguayan international is serving a 10-match FA suspension for biting Chelsea defender Branislav Ivanovic and will miss the first six games of the new season if he stays at Anfield.
Incoming Munich coach Pep Guardiola is reportedly a big fan of the former Ajax forward and was earlier linked with a £40m bid for the 26-year-old. And Suarez has also attracted attention from Madrid's cross-town rivals, Atlético Madrid.
Champions League winners Bayern Munich have already confirmed a German record transfer for Borussia Dortmund playmaker Mario Götze and, according to Goal.com, are believed to be close to a deal for Polish striker Robert Lewandowski as well.
Suarez is contracted to Liverpool till 2016 but disciplinary problems could have a part to play in his forced exit. The Reds' manager, Brendan Rodgers, wants Suarez to stay and thinks the South American will remain but the former Swansea City manager has also admitted he could be sold for the right offer.
Luis Suarez scored 23 Premier League goals from 33 games this season.
Raheem Sterling on Next Season
Meanwhile, Liverpool youngster Raheem Sterling wants regular first team football next season. The 18-year-old signed a new contract with the club late last year and made his England debut in September, in a 2014 FIFA World Cup qualifier against Ukraine.
"I want to... get a good run of games and show the manager what I can do with goals and assists and things like that. If I can score more goals, contribute more assists and have a good season then hopefully I can make the squad for the World Cup in Rio next year. I know can still improve. I need to relax more on the pitch, I'm sure that will come with age and experience," he told LiverpoolFC.com.
The Merseyside club endured a difficult season in the Premier League this year, finishing seventh. Rodgers' men finished behind cross-town rivals Everton for the second season in a row.