Brendan Rodgers: Liverpool Expect Summer Bids for Luis Suarez
Liverpool manager Brendan Rodgers has revealed he expects summer bids for Uruguayan striker Luis Suarez. The 26-year-old former Ajax forward's season came to an abrupt end in April, after the FA imposed a 10-match ban for biting Chelsea defender Branislav Ivanovic.
As a result, Suarez will miss six games of the 2013/14 season and has been linked with an exit from Anfield. Bundesliga champions Bayern Munich and Atlético Madrid of Spain have both been connected to the South American.
"I don't have any doubts that bids will come because he's up there with the very best. There are a small percentage of players who are world class. He's in that bracket so I don't think it will be too dissimilar to when I first came in last summer. People will want to take him," Rodgers explained.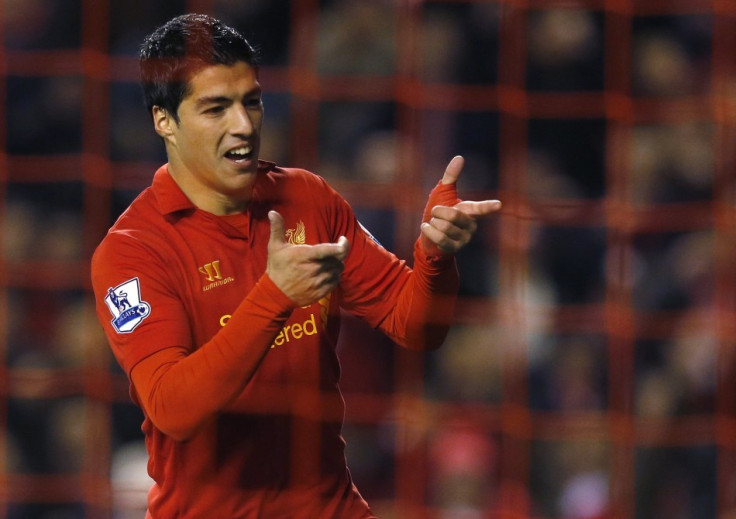 Suarez signed an extension with Liverpool last year, which ties him to Anfield till 2017. The extension also saw him boost his wages from £40,000 per week to £100,000 per week, according to the BBC. And, in turn, the striker has delivered on pitch, with 23 Premier League goals this year and 30 overall.
"I think we all recognise how integral he is. I had a meeting with the owners when they came over and talked about lots of things, and that was one of them. Every player has their price but there's certainly no pressure for the club to sell him," the former Swansea City manager explained.
"We're trying to build that bit of quality so he's not for sale. But he was committed to staying and working with the club. He's very happy here. He had circumstances that made it extremely difficult for him but I've seen nothing to make me think otherwise," he stressed.
The Northern Irishman also added he remains in contact with the player's agent, Pere Guardiola, and expected Suarez to return refreshed and ready after the Confederations Cup with Uruguay.
Finally, Rodgers also spoke of Suarez recovering from the shock of the Ivanovic incident, claiming his star player fully realised the gravity of the situation.
"We have supported him when he's been in turmoil and when he's had setbacks, when there have been traumas over the last couple of years. He knows he did wrong. There was that initial period of shock and anger at the beginning but a wee bit of reality has set now. I look at him in training and he's still working hard. He was committed to wanting to stay and work with the club. I think he's very happy here," Rodgers concluded.
© Copyright IBTimes 2023. All rights reserved.