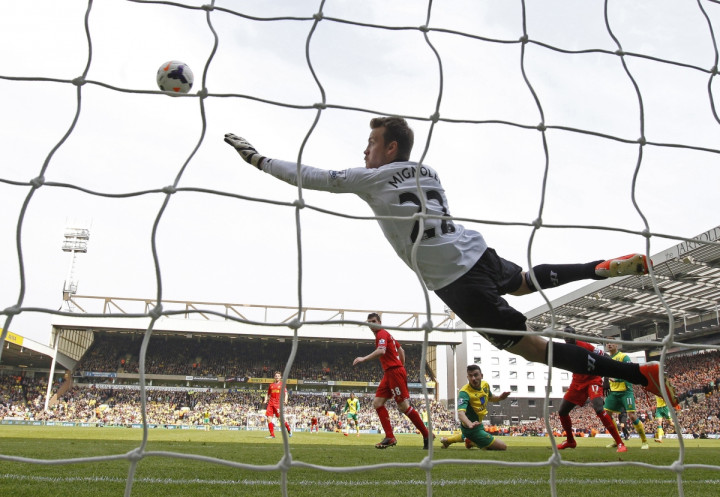 Liverpool number one Simon Mignolet has refused to point out Daniel Sturridge's absence as the reason behind their 1-0 defeat against Aston Villa on Saturday, claiming the squad are big enough to cope with his absence.
Manager Brendan Rodgers decided to rest Raheem Sterling ahead of the Tuesday Champions League opener while he was unable to deploy Sturridge after the striker suffered an injury on International duty.
Without the scoring duo, the Reds struggled up-front with Mario Balotelli as the lonely number nine.
Liverpool were indeed unable to overcome Gabriel Agbonlahor's opener, after the Villa striker put his side ahead from a corner earlier in the game.
But Mignolet believes neither the Sturridge injury nor the International break are excuses to explain the disappointing result.
"I don't think we can use the international break as an excuse. We have a big enough squad. Even without Daniel, we have more than enough ability to create chances and score goals," Mignolet said to Liverpool official website.
"I don't think that's the reason why we didn't score. It was more to do with conceding early and then Villa being able to sit back. It's like what happened at home to Chelsea last season. It's something we have to take on the chin and move on."
The Liverpool goalkeeper gives credit to their rivals. Nevertheless, Paul Lambert's side remain unbeaten after securing 10 points from their first four games.
"It was a frustrating night. If you concede early then it's very difficult in the Premier League against a team who then sit back with two lines of five.
"We defended well after the goal but it was difficult to break them down and we couldn't create enough chances to score. I'm sure if we had got one goal then the game would have opened up and I'm sure we would have scored a few more and gone on to win the game. But we couldn't find the space and they were able to play on the counter-attack."