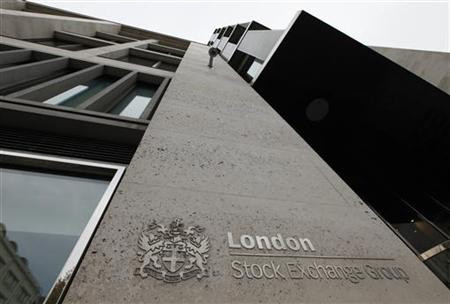 Shares in British banks continued to decline on the FTSE 100 thanks to ongoing concerns over sovereign debt in the eurozone.
For the last few weeks banking shares have tumbled as investors fear that Greece's sovereign debt crisis is far from unique and could be repeated in other nations such as Spain, Portgual, Italy and Ireland.
The EU has put together a 750 billion euro reserve fund in case any eurozone nations run into trouble, a move which gave some reassurance to the markets.
Just over a week ago Spain looked to be a cause of greater concern when its central bank took over struggling bank CajaSur, shortly after the implementation by the government of austerity measures aimed at staving off disaster.
Last week the ratings agency Fitch downgraded Spain's credit rating from AAA to AA+. The following week the European Central Bank announced that it believed eurozone banks could be hit by write downs worth up to 195 billion euros over the next 18 months.
Internationally there were also concerns among investors about renewed conflict between North and South Korea after the South claimed it had evidence that the North was behind a torpedo attack which killed 46 South Korean sailors.
In the last few days international attention has been drawn away from the Koreas and is looking towards Israel after a bloody confrontation between Israeli forces and "peace protestors" claiming to be delivering aid of some kind to Gaza.
By 12:35 shares in Lloyds Banking Group were down 1.86 per cent to 56.34 pence per share, RBS shares fell 2.29 per cent to 45.70 pence per share, Barclays shares declined 1.66 per cent to 296.45 pence per share while HSBC shares dropped 1.20 per cent to 627.80 pence per share.
Overall the FTSE 100 was down 1.04 per cent to 5,108.70.