Financial tech startups are queuing out the door to get one of the hottest desks in town at the Level 39 accelerator space; IBTimes UK technology reporter Alistair Charlton finds out why.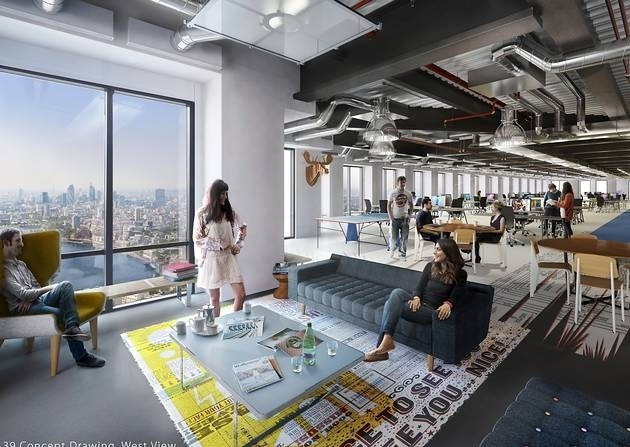 Although the doors to Europe's largest accelerator space for fintech (financial technology) companies have only just opened, a small number of startups were given early access to the 29,000 square feet of ultra-modern office space in Canary Wharf, and I spoke with two of them to find out more.
"This space is better than the banks we're trying to sell our products to," agreed both Calltrunk CEO Paul Murphy and CEO of Digital Shadows, Alastair Patterson.
Both companies arrived at Level 39 in January for a period of 'beta testing' before the remaining office space was opened up in March, and since the move both have reported a growth in business, thanks to their close proximity to the banks.
Patterson, whose Digital Shadows firm helps large companies protect their online identity, said: "The location of Level 39 has had a hugely positive effect. The fact we can get the banks in here at really short notice - they just have to walk over the road - they like this office, they love coming to see us and its a very high spec, world-class facility."
Murphy, whose Calltrunk service makes video and audio recordings keyword searchable, agrees: "Location to banks definitely a benefit. It means we can have impromptu meetings, we can do back-to-back meetings really easily, and a lot of the banks like to come here because this space is actually nicer than the space some of them work in."
Must Read

Level 39: London's Birthright is to Lead FinTech World
Level 39: A Slice of Silicon Valley in Canary Wharf
Moving from its old offices above a meat market in Farringdon, central London, Digital Shadows has found Level 39's close proximity to most major banks hugely important, and the modern decor makes it an office space Patterson can proudly invite customers and investors to for meetings.
"At the moment this is the perfect place for us...we're about to host a lot of very senior execs from the banks who have a networking event regularly and we've offered to host it here, which we wouldn't have been able to do in any other place we've rented."
No Tech City bubble
Of course Level 39 isn't London's first accelerator space for tech startups; four miles across town Tech City has gained huge publicity, £50m government investment, and even royal visits, but locating a startup there isn't for everyone, as Calltruck's Murphy explained:
"We looked at Tech City, but we think it's completely overpriced for what it is. It's got so much publicity everyone wants to be in Tech City and then the obvious thing is going to happen, real estate is going to get more expensive...I don't think we're going to see the kind of bubble [in Canary Wharf] that we're seeing in Tech City."
With its 'kinetic' art installations, iPad-controlled coffee machine and interior designed by the same architect responsible for Facebook's London offices, Level 39 is more Silicon Valley than London financial district. But far from being the free-for-all that Tech City has become, Level 39's tenants all have a shared goal of disrupting the financial, retail, and smart city technology industries.
What's also important to its tenets is Level 39's ability to bring startups with similar projects together to work in the same space, sharing contacts, knowledge and bouncing ideas off each other.
"It's a huge benefit," Murphy told us. "We can all talk to each other about the various clients we have, what it's like to interact with them, learn who's being helpful and who isn't."
Patterson agrees: "There's a huge benefit to sharing space with other people working in your industry, and working alongside other startups is always beneficial because you're all in the same position with limited funds, you need the same sort of connections and support."
It remains to be seen if Level 39 will produce the next Square, PayPal or other fintech success story, but initial feedback from these beta testers has been promising, and the fact that the rest of Level 39 is already over-subscribed speaks for itself.