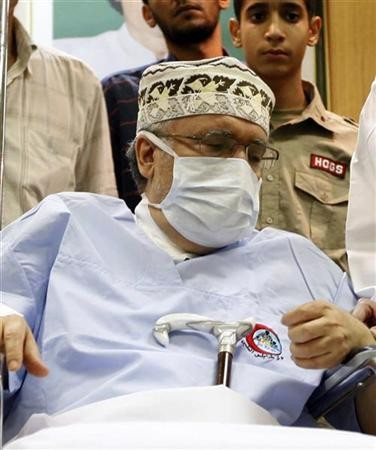 As the scandal surrounding Scotland's release of the Lockerbie bomber refuses to die down, new allegations implicating the signature of a BP oil deal have emerged.
Rumours that the British and Libyan governments discussed the release of Abdelbaset Ali al-Megrahi in exchange for an oil deal with BP emerged a few months ago, but Muammar Gaddafi's last foreign minister confirmed them when recently interviewed by the BBC.
Megrahi is the only person ever convicted for killing 270 people in the 1988 bombing of Pan Am Flight 103 over the south of Scotland.
The Libyan was jailed in Scotland in 2001 but was released in 2009 on compassionate grounds, after suffering from cancer, When new footage of him attending a pro-Gaddafi rally in Libya emerged, families of the Lockerbie victims called for his return behind bars.
Megrahi's family and supporters claim he is innocent and say he is dying.
With Megrahi back in the headlines, many wanted clarification surrounding the conditions that led to his release and the debate is now surrounded by controversy.
While the Scottish government has always said the decision was theirs alone and motivated by compassion for a dying man, Gaddafi's former foreign minister, Abdelati Obeidi, gave the BBC a different account, explaining that Britain realised that releasing him would help secure access to a multibillion-pound BP oil deal.
"There was a hint that releasing him would help, but it was not a condition," he said. "The Libyan side, and you know the British, they know how to take things"
Asked if an exchange of the prisoner was part of the talks, Obeidi said: "This is what I think".
After being diplomatically ostracised for years and perceived as a pariah, in the end of the 1990s Gaddafi made a comeback on the world scene and was seen in company of many world leaders, including then-Prime Minister Tony Blair.
With Gaddafi out of the cold, BP secured a large a very profitable contract to exploit Libyan oil reserves.
Observers noted that the deal had hit difficulties prior to the release of Megrahi, but appeared back on track as soon as he was released.
After questions were raised over the giant oil company's position, last year BP admitted it pushed for a deal over the controversial prisoner transfer agreement as it tried to protect its "commercial interests," but denied it was involved in negotiations surrounding Megrahi's release.
Moreover, Libyan documents newly discovered in the abandoned British Embassy in Tripoli indicates the British government decided it was "in the overwhelming interests of the United Kingdom" to make Megrahi eligible for return to Libya.
Among the documents discovered are letters sent two years ago by Jack Straw, then justice secretary, to Kenny MacAskill, his counterpart in Scotland, who took the formal decision which allowed for Megrahi's release.
Two letters dated five months apart show that Straw initially intended to exclude Megrahi from a prisoner transfer agreement with Gaddafi. In a letter dated July 26, 2007, Straw said he favoured an option to leave out Megrahi , which was backed by Downing Street.
But after the BP deal that had been announced in May 2007 stalled, Straw appeared to switch his position as in a letter dated Dec. 19 to MacAskill he announced the UK government had decided to abandon its attempt to exclude Megrahi from the prisoner transfer agreement.
"I had previously accepted the importance of the al-Megrahi issue to Scotland and said I would try to get an exclusion for him on the face of the agreement. I have not been able to secure an explicit exclusion.
"The wider negotiations with the Libyans are reaching a critical stage and, in view of the overwhelming interests for the United Kingdom, I have agreed that in this instance the [prisoner transfer agreement] should be in the standard form and not mention any individual."
Within six weeks of the government's turnaround, Libya had ratified the BP deal and as the prisoner transfer agreement was finalised in May, Libya formally applied for Megrahi to be transferred to its custody.
In the past Saif al-Islam Gadaffi, the colonel's son, also claimed negotiation over the release of Megrahi was linked with the BP oil deal: "The fight to get the agreement lasted a long time and was very political, but I want to make clear that we didn't mention Mr Megrahi.
"At all times we talked about the [prisoner transfer agreement]. It was obvious we were talking about him. We all knew that was what we were talking about.
"People should not get angry because we were talking about commerce or oil. We signed an oil deal at the same time. The commerce and oil deals were all with the [prisoner transfer agreement]."
Sir Richard Dalton, a former British ambassador to Libya and a board member of the Libyan British Business Council, also backed up this account saying: "Nobody doubted Libya wanted BP and BP was confident its commitment would go through. But the timing of the final authority to spend real money was dependent on politics."