Logica Plc announced that it is looking to partner with the world's most forward-thinking enterprises through its Global Innovation Venture Partner (GIVP) programme. For the fifth time, Logica invited organisations to submit their entries in its search for the business with the most innovative products and solutions.
Nominated companies will be reviewed by a Logica panel and the winner will work with Logica to develop their entry for Logica clients. The group is scheduled to release its first-quarter interim management statement on Friday.
"This programme is an important initiative through which we identify new partners who are as committed as us to innovation. It is testimony to the success of the programme that we have been able to extend the invitation to three additional countries. As always, I look forward to working with the new innovation partner that comes from this year's programme," said GBS Bindra, global innovation director at Logica.|
The Anglo-Dutch IT services provider's retail and industrial clients need Logica to focus on product development, supply chain agility and optimisation, as they try to reduce costs and serve more customers with greater speed. The pressure on retailers and manufacturers to sell through multiple channels to sophisticated digital consumers is creating a new opportunity for the group to advise clients and transform the way they sell to their customers.
For the FY 2011, the group's revenue increased by 6 percent to £3,921 million compared with £3,697 million a year ago. Adjusted operating profit was £114 million, including £39 million of contract charges and £93 million of restructuring charges announced on 14 December 2011. The underlying adjusted basic EPS was 11.3 pence compared with 12.3 pence a year ago.
"Although the company was unloved, the shares offered good value if it could avoid another profit warning. The latest guidance for 2012 was given at the low point in market confidence and now looks more achievable following two months of broadly positive economic data and strong order books announced," said analyst Paul Morland at Peel Hunt.
The business and technology service company continues to be vigilant about the economic outlook in its main markets. Logica's guidance for 2012 remains unchanged and it anticipates 2012 revenue growth in the range of -2 to +2 percent.
According to the group, restructuring programme is on track and it expects benelux business to return to profit in 2012 with improved margin for Swedish business. The group views that its full year 2012 operating margin will be above 6.5 percent even though difficult market conditions prevail.
Below is a summary of sector comparisons in terms of price earnings, earnings per share, dividend per share, dividend yields, return on equity and price-to-book ratio. The table explains how the company is performing against its peers/competitors in the sector. The table below represents top ten companies based on market capitalisation.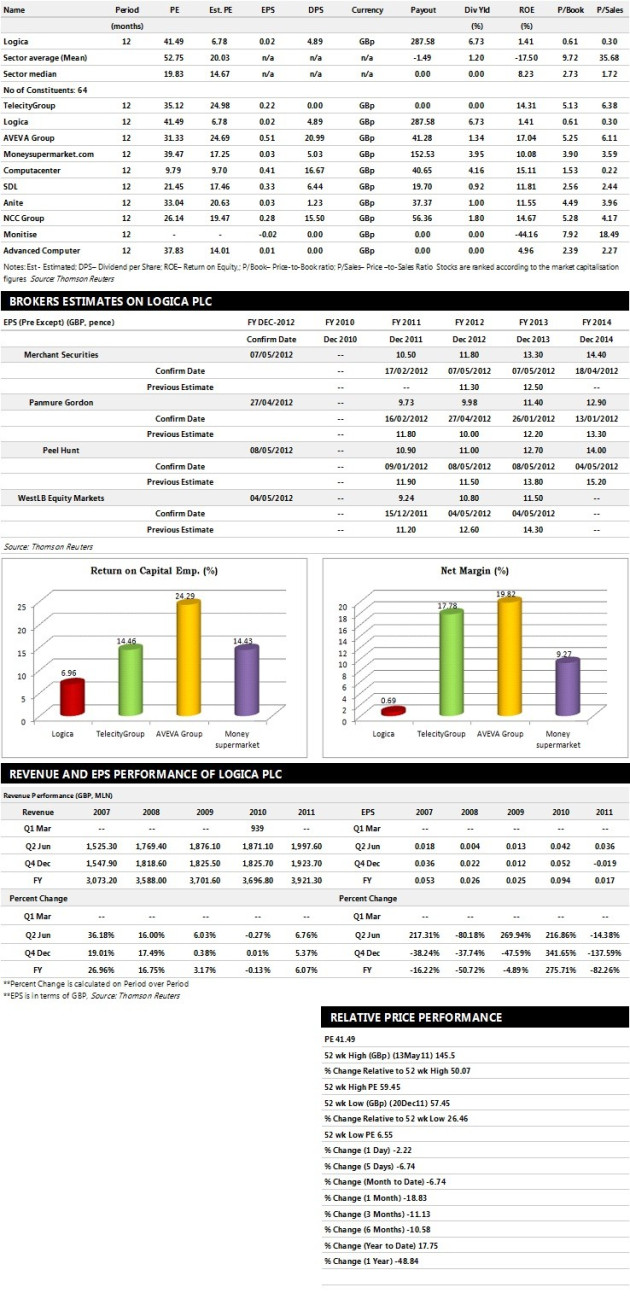 Brokers' Views:

- Peel Hunt gives 'Buy' rating on the stock with a target price of 105 pence per share
- Merchant Securities assigns 'Hold' rating with a target price of 83 pence per share
- Panmure Gordon recommends 'Hold' rating with a target price of 87 pence per share
- WestLB Equity Markets assigns 'Hold' rating
Earnings Outlook:

- Peel Hunt estimates the company to report revenues of £3,830 million and £3,961 million for the FY 2012 and FY 2013 respectively with pre-tax profits (pre-except) of £238 million and £277.20 million. Earnings per share are projected at 11 pence for FY 2012 and 12.70 pence for FY 2013.
- Merchant Securities projects the company to record revenues of £3,949.30 million for the FY 2012 and £3,992.20 million for the FY 2013 with pre-tax profits (pre-except) of £240.10 million and £268.70 million respectively. Profit per share is estimated at 11.80 pence and 13.30 pence for the same periods.
- Panmure Gordon expects Logica to earn revenues of £3,707.08 million for the FY 2012 and £3,797.07 million for the FY 2013 with pre-tax profits (pre-except) of £252.90 million and £285.30 million respectively. EPS is projected at 9.98 pence for FY 2012 and 11.40 pence for FY 2013.