Team GB won their first ever medal in the equestrian dressage event at the 2012 London Olympics today, taking out gold to push them over the edge and boast one more than they achieved in the entirety of the Olympics in Beijing.
Carl Hester achieved a brilliant ride in response to a rampant Germany on the final day, receiving a score of 80.540% to set up an exceptional lead for the following Team GB riders to follow.
The score was approximately 3% clear of first German rider of the day Dorothee Schneider, and the British riders' confidence was at an all-time high as they maintained their position on top of the table.
"It's a combination of so many years of dreaming about it and it finally happening," Hester said.
"Those girls are cool customers and Charlotte is unbelievable for the amount of time she's been riding.
"The horse is also unbelievable, you can see he's the best horse in the world. We've finally won it and I said to Charlotte on the way here, I have a little saying for her, some people wish it will happen, some people think it will happen and you are going to make it happen.
"That's the sort of thing I can say to her. It would frighten a lot of people but she just takes it goes in there and rips through her test like a professional of 20 years would.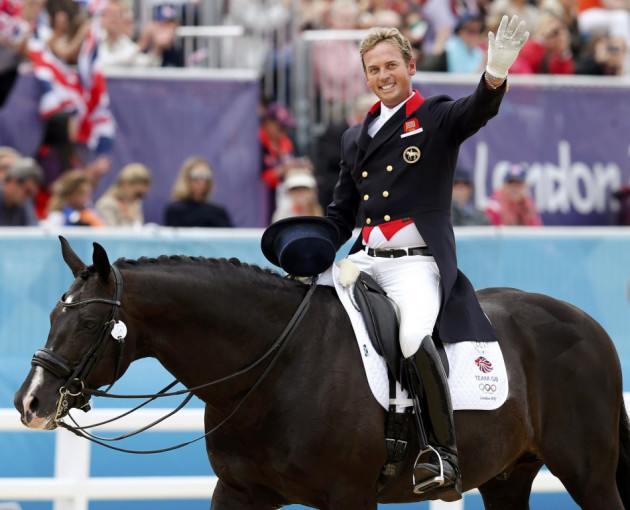 With the first round over, a gold medal became an expectation for Team GB, and after Germany's Kristina Sprehe erred just a minute into her routine and received a disappointing score of 76.206%, Britain's Laura Bechtolsheimer replied by taking a score of 77.873% to keep Britain in pole position.
The final ride for Team GB came from Charlotte Dujardin, who scored a record breaking 83.286% for her team. Germany were unable to catch the hosts, and gold was sealed by the woman who had served underneath Hester before getting her chance at the big time.
Princess Mary was watching alongside her husband as the team went for their first Olympic medal, and after Hester guided them to their first glory in the European title last year, he was able to do the same this time around as well with his brilliant final ride.
Taking the victory last year in Europe, they took the mantle as favourites in the Olympics for the first time in preparation for today, though Germany were close by in second place and refused to give up on the final day.
Dujardin's life changed in a very quick space of time, with the 27 year old getting her break for the dressage team only last year after working as a groom for Hester, who is now her teammate in the equestrian team.
She entered today with first place on the leader board, and after breaking the Olympic record for the first stage of the team and individual dressage, Dujardin looked in high esteem to finish with a medal.
In equestrian dressage, part of the challenge is keeping the horse in check and not allowing them to become spooked amongst the crowd noise. The smallest mistakes receive deductions in points, and despite Britain's esteemed history in equestrian events, the nation had never taken a medal in this particular discipline.