Team GB won their first two gold medals of London 2012 on 1 August as cyclist Bradley Wiggins triumphed in the men's time trial, after rowers Heather Stanning and Helen Glover won the women's 2000m at Eton Dorney. The host nation's most successful day got even better when the men's eight won bronze in the rowing final, before Michael Jamieson claimed a silver medal in the 200m breaststroke. The Scot's medal was Britain's ninth overall, lifting them to 11th in the medal table.
Here are the highlights for 2 August:
Track Cycling: After Wiggins became the first man to win the Tour de France and Olympic gold in the same year, Britain turns to its track cycling heroes Victoria Pendleton and Sir Chris Hoy with hopes of further medal success. Track cycling was a huge success for Britain at Beijing 2008, with Hoy claiming 3 gold medals (individual sprint, team sprint and keirin), while Pendelton triumphed in the individual sprint.
Hoy and Pendleton will both be among the favourites in their respective fields when the track cycling competition begins at 4:00 pm. Pendleton will partner 21-year-old Jess Varnish in the first-ever women's team sprint event, which also features strong representation from Australia and Germany. Meanwhile, Hoy teams up with teenager Philip Hindes and Jason Kenny, who was part of the gold medal-winning team in Beijing. Australia, Germany and France will be among the chalengers.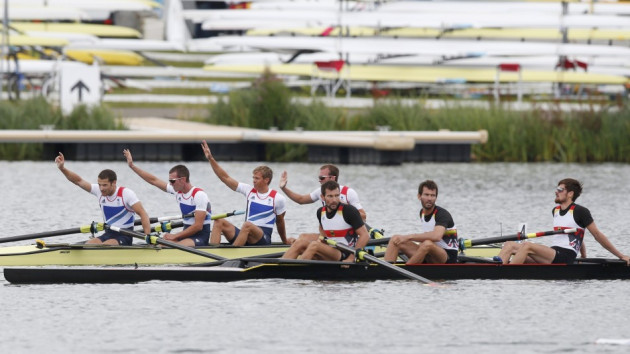 Rowing: After the hosts' rowers clinched gold and bronze at Eton Dorney on Wednesday, British hopes now lie with the men's lightweight four of Rob Williams, Chris Bartley and brothers Richard and Peter Chambers, as they head into the final at 12:17 pm. The crew won the final race of this season's World Cup and going by their current form, gold is very much a possibility. Defending champions Denmark are touted as Britain's biggest threat.
Shooting: Peter Wilson, the world record holder in the men's double trap, represents Britain's best chance of a shooting medal. Alongside the world number two, who is making his Olympic debut, veteran Richard Faulds, who won gold in the same event at the Sydney Olympics 2000, will also hope to reach the final which begins at 3:00 pm.
Canoe Slalom: Team GB's David Florence and Richard Hounslow have been in sublime form in the men's canoe double (C2) this year. Florence had won silver in the singles event (C1) at Beijing 2008. The duo will be in action around 1:30 pm and the fastest six go through to the final at 01:48 pm. British hopes have been further raised by the qualification of Tim Baillie and Etienne Scott, while Lizzie Neave, who competes in the women's single event (K1), remains the host's favourite to win a medal, after finishing second fastest in qualification.
Gymnastics: Britain's hopes lie with 15-year-old Rebecca Tunney and Hannah Whelan, who have made the final of the women's all-around. However, the battle for gold is expected to be between favourites Aliya Mustafina of Russia and Gabby Douglas of the US. The event starts at 4:30 pm.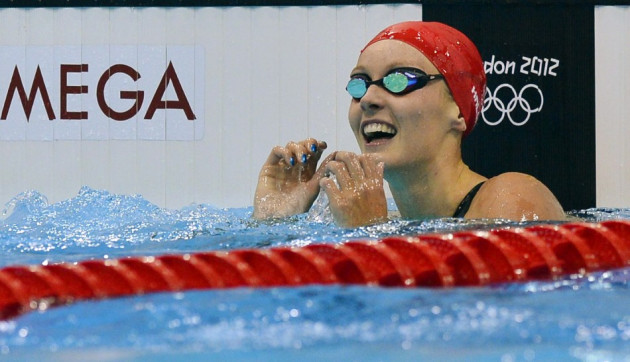 Swimming: Rebecca Adlington, who has already won a bronze at London 2012, will start defending her 800m freestyle title today. But the spotlight will be on Francesca Halsall, who is competing in the women's 100m freestyle final at 8.37 pm. The 22-year-old came through the semi-finals as the fifth-fastest qualifier and is now the favourite to win a medal. Meanwhile, the fight between Americans Michael Phelps and Ryan Lochte is set to continue in the men's 200m individual medley final, with Team GB's James Goddard also competing.
Tennis: The top seeds and big names will be back in action on the grass courts of Wimbledon, as the tennis singles events at the London 2012 enter the quarter-finals.
Men's quarter-finals:
Andy Murray [3](GBR) vs Nicolas Almagro [11](ESP) at 12:00
Novak Djokovic [2](SRB) vs Jo-Wilfried Tsonga [5](FRA) at 2:00 pm
Roger Federer [1](SUI) vs John Isner [10](USA) at 4:00 pm
Juan Martin del Potro [8](ARG) vs Kei Nishikori [15](JAP) at 4:00pm
Women's quarter-finals:
Victoria Azarenka [1](BLR) vs Angelique Kerber [7](GER) at 12:00
Petra Kvitova [6](CZE) vs Maria Kirilenko [14](RUS) at 1:30 pm
Serena Williams [4](USA) vs Caroline Wozniacki [8](DEN) at 2:00 pm
Maria Sharapova [3](RUS) vs Kim Clijsters (BEL) at 6:00pm
Other Team GB matches on Thursday:
Handball men v Argentina, 4:15 pm
Water Polo women v Italy, 6:20 pm
Hockey women v Belgium, 7:00 pm
Basketball men v Spain, 8:00 pm
Volleyball men v Italy, 10:00 pm
Where to Watch Live
You can follow all the action live on BBC One from 9 am BST to 10 pm BST; with breaks for BBC News between 1 pm BST and 1.45 pm BST and 6 pm BST and 7 pm BST). Coverage in that period will be avilable on BBC Two and will continue from 10 pm BST to 10.40 pm BST. Live coverage is also available from 9 am BST to 11 pm BST on BBC Three and BBC HD. Sky 3D will have coverage from 8.30 am BST to 9.45 pm BST and EuroSport from 8.30 am BST to 9.15 pm BST.
You can also follow all the action live, via text updates, on the official Web site for the 2012 London Olympics and also via a specially set-up BBC video player.