Alistair Brownlee has taken gold in the men's triathlon on day 11 of the 2012 London Olympics, with brother Jonny winning bronze despite receiving a 15-second penalty in the cycling leg of the race.
The Brownlee brothers are the first Team GB medallists in the history of the sport, and to win two medals, despite the penalty, illustrated their strength in the face of adversity.
The duo started well in the swimming, coming fourth and sixth as Javier Varga of Slovakia finished first in 16.56 seconds.
The Brownlees then maintained top a five position as they took on the cycling leg, fighting closely with Javier Gomez, Richard Varga and Alessandro Fabian in the first group.
Alistair and Jonny worked together to make the cycling leg as efficient as possible, while the chasing group employed similar tactics as they looked to close a gap of around 20 seconds.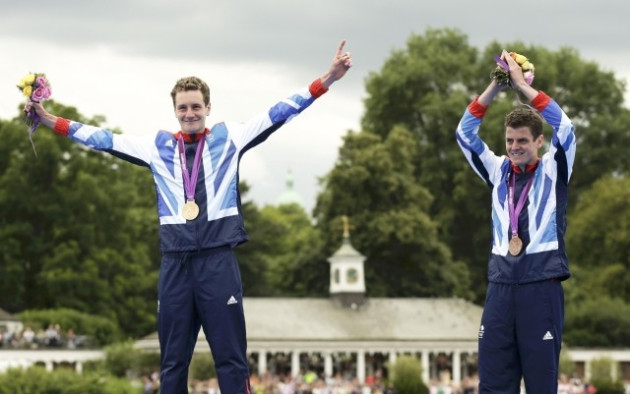 At one stage in the cycling, Stuart Hayes took the lead, meaning that Team GB held all the podium positions as they powered through the final laps.
But the Brownlee pair were handed a massive setback when it was confirmed that Jonny would had to serve a 15-second penalty before the end of the race, for mounting his bike too early.
Starting the running leg, the Bownlee brothers broke away fast, but they faced strong competition from Gomez - who has closely competed with the brothers for a number of years.
For Jonny, the decision over when to take the penalty was a difficult one, and at one point he had a 28-second gap over the chasing pack as Alistair and Gomez broke into the lead.
He finally took his penalty in the 3rd lap with over 2km to go, opening up a 32-second gap from Gomez.
Jonny looked more comfortable after taking the penalty than he did beforehand, and thereafter worked with his brother to shore up first and third place as the British supporters cheered them on.
With a kilometre to go, Alistair asserted himself in the position for gold, isolating Gomez for second position as Jonny pushed hard to keep third place.