Renowned aerial photographer Jason Hawkes took advantage of recent crisp autumn weather and clear blue skies over London. Hanging out of a helicopter, he photographed the capital getting ready for winter. His photos show autumn colours in Kensington Gardens, the Winter Wonderland theme park in Hyde Park and skaters on the ice at Somerset House.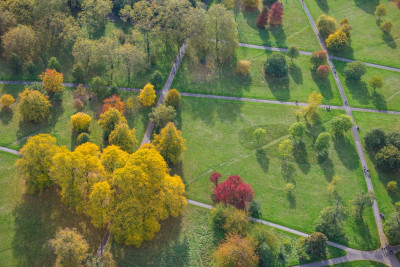 His aerial photographs reveal the rapidly changing face of the capital, offering a close-up look at the US embassy building in Nine Elms and the enormous redevelopment of Battersea Power Station, where the iconic chimneys are slowly being chewed down to stumps (all four chimneys will be rebuilt). He captures the cluster of skyscrapers in the City of London, giving a bird's eye view of relatively new additions to the skyline, such as the Cheesegrater and the Walkie Talkie, as well as the Shard, Western Europe's tallest building.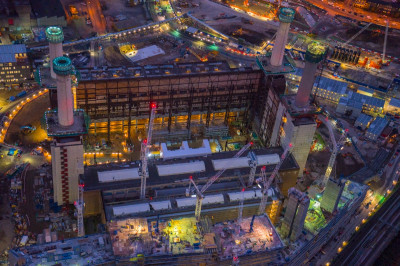 Hawkes is one of the world's most prolific and sought-after aerial photographers. He has been hovering over cities with a camera since 1991 – initially using microlight aircraft and then graduating to helicopters. He was the official photographer on the BBC's huge Britain From Above project. He has published more than 40 books, including New York At Night and London At Night. His first book, London From The Air, came out when he was just 23 and has gone on to sell more than 160,000 copies.
He says he loves shooting just after dusk, when the city lights come on and there is a tiny bit of colour left in the sky. New advances in digital camera technology allow him to capture the city at night. "It's a fantastic city – the sprawl when looking from above is incredible," he says.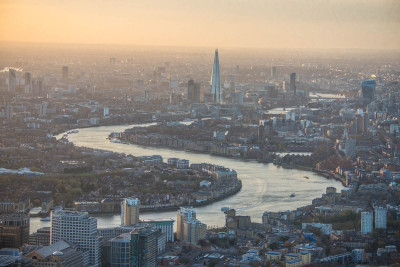 For more aerial photos, visit www.jasonhawkes.com and follow Jason on Twitter at @jasonhawkesphot for the latest info and behind-the-scenes pictures.