London Ambulance Service trialling app to help guide first responders to emergencies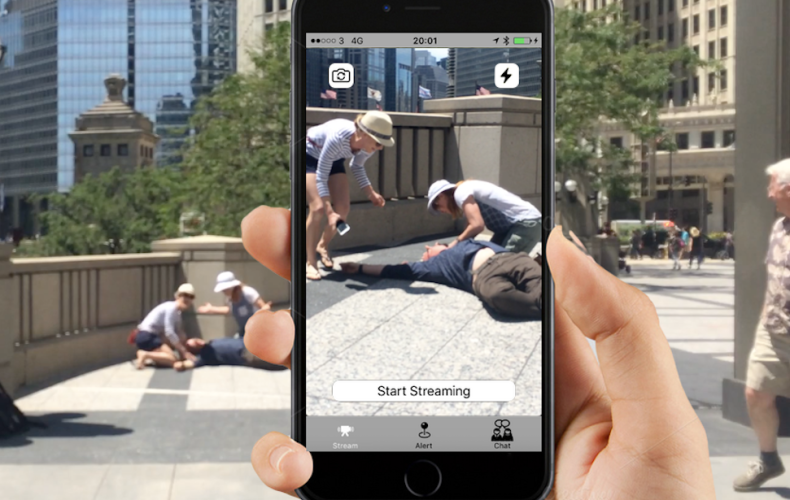 The London Ambulance Service is trialling a new smartphone app that alerts trained first responders to nearby emergencies. The GoodSAM app uses GPS to guide qualified staff to incidents where they can deliver emergency first aid before ambulance teams can get to the scene.
In an emergency, users who have downloaded the app can open it and press a button to send out a notification to doctors, nurses, firefighters and other trained personnel in the immediate vicinity who have registered themselves on GoodSAM as a first responder. At the same time, a 999 alert is sent to emergency services.
Upon receiving an alert from the app, first responders in the area can either accept or reject the request. If they accept, the responder will be directed to the scene of the emergency using GPS and will also be shown where the nearest defibrillator is located. The caller is able to communicate with the responder through the app so they can speak to them en route if necessary and send them live video from the scene.
Being able to administer such emergency care in the minutes following an incident is critical in determining the outcome for the patient: for example, somebody suffering cardiac arrest is 10% less likely to survive with every minute that passes without receiving CPR.
Mark Wilson, GoodSAM co-founder and London Air Ambulance doctor, said: "If someone is in cardiac arrest the earlier quality CPR can be performed, the better the chance of patient survival. GoodSAM alerts nearby first responders that can go and help before the ambulance service arrives. If a defibrillator is readily available, the location of which is shown on the GoodSAM app, patients are up to six times as likely to survive."
The London Ambulance Service has used the app 20 to 30 times a day for the last five months, the Telegraph reports, with around 7,500 users said to have registered for the service in the UK. The creators of the app, which is available on both Android and iOS, are now appealing for more medically trained personnel to sign up as "responders" and to members of the public to become "alerters".
Wilson said: "Everyone who has a smartphone has a life-saving device in their pocket. They just need to download the GoodSAM app in case they ever need to use it."