The accessories on the arms of the models can sometimes be overlooked by those taking in the collections but London Fashion Week has proved once again that the British capital has matured significantly in recent years. That was especially so this year with new, grown up and extremely commercially viable accessory options from the likes of Anya Hindmarch, the newly revived Mulberry and the launch of Hill & Friends.
Hindmarch has always known how to take a gimmick and turn it into incredible profits and this year is no different. Focusing on what she referred to as "the building blocks of digital design" the AW16 show was a pixellated, graphic reimagining of 8-bit computer game nostalgia, reworked into a dazzling 1970s palette of bold metallics and warm ochres, teals and burgundy.
The embellishments carried her eccentric signature style but the bags themselves were highly functional, classic in form and luxurious. And for those who will not be investing in a bag can always add a piece of the collection to their own with Hindmarch's ingenius Gateway purchase stickers from £35.
For Mulberry this season was a new awakening of sorts, with profits plummeting and rocky share prices especially since the departure of Emma Hill in 2013 the brand was in need a new direction. AW16 saw the first collection of their latest appointment of Johnny Coca as creative director.
The Spanish-born designer and former accessories designer of Celine (he created the infamous Trapeze bag) had a great weight upon his shoulders when picking up this brand but rather than running away from the British heritage label's problems he went right back to the beginning. Reviving the original 1970's logo was a clever move, immediately invoking memories of the thriving affordable brand that Mulberry once was.
And the show was a far more mature, serious output of new designs and extremely wearable pieces. Rich wool felt studded capes were paired with sleek pressed tailored cigarette pants and chunky creeper shoes as well as bold platform boots.
The infamous Bayswater was updated with a far more ridged, top handle design with versatile shoulder strap and large, Celine-like totes were presented in a range of prints and muted tones. The best decision, however, was to reduce the prices, so we can guarantee people will be wearing Mulberry again now.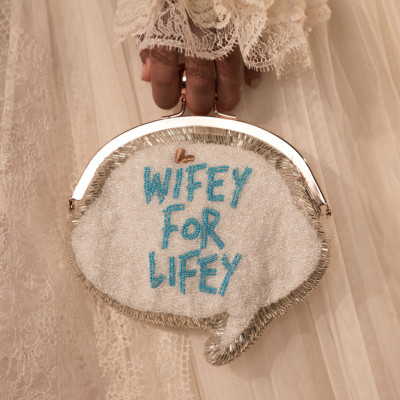 If you were looking for the Mulberry of the noughties, you need to switch your allegiance to Hill & Friends, where the previous versions of Emma Hill's cute Mulberry mini chain bags and soft vibrant leather totes have been reimagined for her new brand with co-founder Georgia Fendley.
Eschewing a straight presentation or show, Hill showed off her collection in a cute, pink, cinema screening laden with the bunnies, deer and dogs that have all since left the Mulberry headquarters and look books.
Another front runner proving her worth was Sophia Webster, who has also crossed over from cute, motif territory to a trademarked style. Employing one half of the sadly closed Meadham Kirchhoff brand to design the show, Webster presented her usual butterfly emblems and sandals laced to the thigh in a twisted romantic and gothic setting inspired by Beetlejuice.
But it was the bags that really grabbed the attention of those at the presentation, with her cartoon speech bubble bags transformed into embroidered Victoriana purses with messages such as "wifey for lifey" and "drop dead gorgeous" neatly sewn into them. By maintaining the same level of eccentricity and gimmick in every collection, Webster has turned her playful designs into a very commercial and wide-reaching brand.