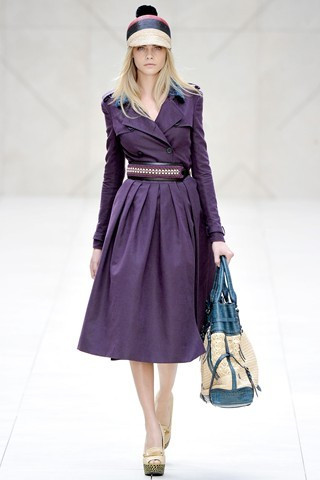 It's possible been the most exciting day yet, September 19, London Fashion Week delivered a whole host of top British designers including Burberry, Fast, Erdem, Mulberry and more.
Each designer delivered to more than satisfactory fashion levels, with social networks booming from unanimous praise given by the fashion world.
Join us as we take a look at some of the best designs from out pick of the top British designers who showed their collections on day four.
Burberry-Winter colours were the essence of designer Christopher Bailey's collection, rich plum, forest green, and bronze was the colour pallet which engulfed Skirts with high, tight waists that crocheted tops beads, high-waisted pencil skirts and Parkas.
Mark Fast-Desert nudes and body con, chiffon dresses were largely apart of Mark Fast's collection. "The palette originates from sand tones in a desert landscape, then moves into gold fringing. We wanted to create movement over the body to emulate the force of a sand storm," explained Fast in his show notes.
Erdem-Floral chic consisting of cornflowers and blue hydrangea were much of Erdem's collection.
Mulberry-Sultry lemon yellow was celebrity favourite Mulberry's colour of choice in his every day wears collection.
Giles-Meshing disco silver with formal work wear proved all too easy for Giles. Whose innovative collection wowed all.