London mayoral election 2016: Sadiq Khan has 'almost' enough support to win in first round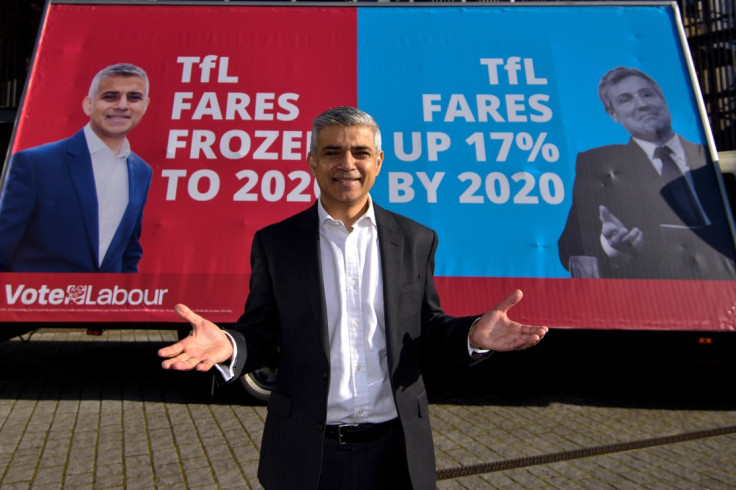 Sadiq Khan has "almost" enough support to win the Mayor of London election in the first round of voting, the latest opinion poll in the City Hall race suggests. The Labour candidate is 15 points ahead of Conservative hopeful Zac Goldsmith (49% versus 34%) on first preference votes, with days to go before the 5 May ballot.
The Survation telephone survey for the London Fairness Commission, of more than 1,000 people in capital between 21 and 25 April, also put Khan 20 points ahead of Goldsmith in the second round of voting (60% versus 40%).
"Khan has almost enough first preference vote intentions to win City Hall back for Labour without needing a second round of voting if turnout for the Tooting MP holds up on polling day," said Damian Lyons Lowe, the chief executive of Survation.
"To remedy this type of notional lead, and render these figures for the race for City Hall 'inaccurate' by polling day, the Conservative Party campaign will have to perform what [political strategist] Lynton Crosby deemed in Boris vs Ken's round one the 'doughnut strategy' – differential turnout in Greater London's 'outer ring' except an even more extreme version – extreme being a phrase oft bandied about during this campaign, to little apparent success."
But the opinion poll is based on a high turnout of 59% at the vote (it was 38% in 2012) and conducted before Labour's anti-Semitism scandal, which has seen the party suspend former Mayor of London Ken Livingstone and Bradford West MP Naz Shah. Livingstone drew criticism outside and inside the party by claiming Nazi leader Adolf Hitler was a Zionist, the movement to create a Jewish homeland.
"Let's remember when Hitler won his election in 1932, his policy then was that Jews should be moved to Israel," he told BBC Radio London. "He was supporting Zionism – this before he went mad and ended up killing six million Jews."
Khan was quick to distance himself from Livingstone and condemn his language as "appalling and inexcusable". He added: "There must be no place for this in our party." However, Goldsmith has claimed Labour has a problem with anti-Semitism within its ranks.
"There is no doubt that the Labour Party have not been sufficiently robust in dealing with it, I think that's unforgivable," he told IBTimes UK. "When an entire community begins to feel that the second biggest party in the country is not on their side, that is a problem that any self-respecting party needs to address."
© Copyright IBTimes 2023. All rights reserved.