Team GB have taken a bronze medal in the women's hockey, with the side beating New Zealand 3-1 after losing their semi-final to Argentina two days ago.
The first half of the match saw little scoring opportunities from either team, with 0-0 a decent representation on both New Zealand and Team GB's performances thus far. The Kiwis grew in confidence over the half, though Team GB looked in control throughout.
The second half saw the hosts come out looking a lot fresher, and after dominating the play, Alex Danson was able to take the score to 1-0, after deflecting the ball into the net as Kate Walsh fired a penalty corner towards the goalie.
GB were able to relax after asserting their dominance on the scoreboard, settling the game somewhat. And after Crista Cullen converted another penalty corner with perfect precision to take the score to 2-0, New Zealand looked to be down and out with 10 minutes to go.
On 7 minutes 22 seconds, Team GB showed their brilliance at penalty corners for a third time, with Sarah Thomas closing down the game at 3-0 after a poor error by New Zealand near the base line.
The Kiwis were able to claw one back with two minutes to go, with Stacey Michelson converting a penalty of her own, but it wouldn't be enough to get back into contention for the bronze.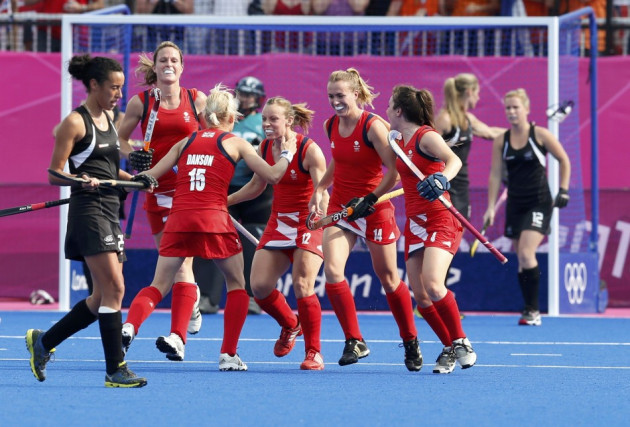 After losing in the semi-final to Argentina 2-1 just 48 hours before, GB forward Alex Dawson admitted she was disappointed but insisted the team had reset their goals going into the bronze medal match.
"We're obviously devastated," she said. "But we'll go back, we'll be professional and make sure we come back on form for our next game.
"We have to reset our targets - our gold is now the bronze. We won't go away without it and we'll come back strong."
A bronze medal is as high as any Team GB women's hockey squad have achieved, with the team at the Barcelona Olympics in 1992 coming third.
Manager Danny Kerry knew that facing up to a rampant New Zealand side, who pushed gold medal favourites Holland to penalties in the other semi-final, was always going to be a tough ask.
"If New Zealand play like they did against Holland we're going to have to be at our absolute best," he said. "They were exceptional and Holland can count themselves lucky they got through.
"New Zealand are probably the fastest counter attacking team in the world right now so we need to manage that. They're also very good in the attacking circle but there's no way we will underestimate them."