Christian Taylor of the US claimed gold in the men's triple jump at the London 2012 Olympics, after recording a seasonal best. Taylor jumped 17.81m in his fourth attempt to stay ahead of compatriot Will Claye (17.62m) and Italian Fabrizio Donato (17.48m), who finished with silver and bronze respectively.
Taylor's first two jumps were both disqualified, as was his sixth, but he kept his head to record 17.15m, 17.81m and 17.55m in his other three. Meanwhile, Claye jumped 17.54m for his second attempt to briefly take the lead. He followed that with jumps of 17.43m, 17.62m, 17.25m and 16.66m. Donato jumped 17.38m, 17.44m, 17.45m and 17.48m and saw his fifth and sixth jumps disqualified.
Taylor, the winner of the same event at the 2011 World Championships in South Korea, dedicated his win to Jonathan Edwards, the world record holder, claiming the retired British athlete had always been an idol.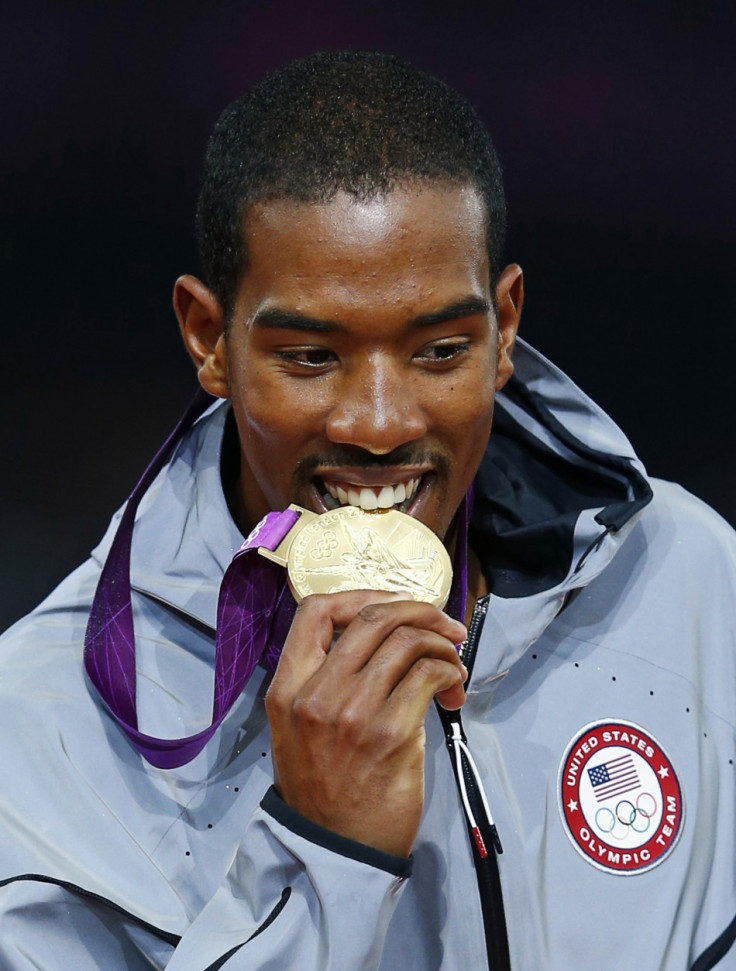 "I was going for it. I said I was going to go for the world record in front of Jonathan Edwards. He's my idol. He's the best. I watched footage of him last night at the [2000] Sydney Olympics and Atlanta 1996 Games. I'm glad I got to put on a show. My confidence level is off the roof," BBC quoted Taylor as saying.
British hopeful Phillips Idowu failed to make the finals after managing only 16.53m in the qualifiers. Still, even if he had qualified, Idowu's seasonal best of 17.31m would have only earned him fifth.
Czech Republic's Spotakova Retains Olympic Javelin Title
Meanwhile, reigning Olympic champion Barbora Spotakova of Czech Republic, who also holds the world record in women's javelin throw, defended her title with a strong throw of 69.55m, a seasonal best. The 31 year old was in good form from the very first throw of 66.90m and took a comfortable win.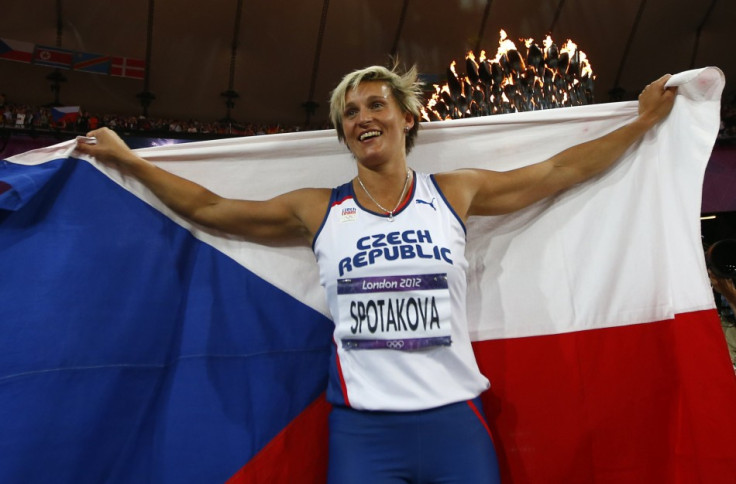 Spotakova is now only the second woman athlete to win back-to-back gold medals in the javelin throw at the Olympics, after East Germany's Ruth Fuchs. She stated afterwards that her goal now was to equal the record of her coach, and men's world record holder, Jan Zelezny, who won three successive titles in the Barcelona 1992, Atlanta 1996 and Sydney 2000 Olympics.
"My coach has won it three times so I still have things to do. I feel amazing. I am 31 years old, I have got so much experience and I am feeling healthy," Reuters quoted as Spotakova as saying.
The silver was claimed by Christina Obergfoll of Germany with a throw of 65.16m, while her compatriot Linda Stahl collected the bronze with her seasonal best of 64.91m.