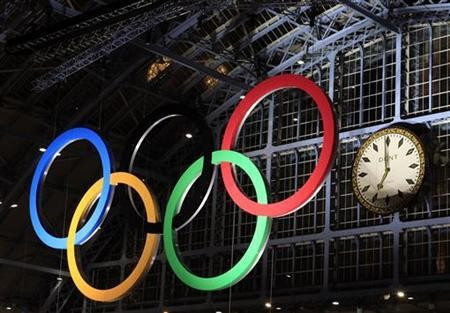 The London Olympics rack up more than £13bn for the British economy over the next few years and more than offset the cash spent for the building the hosting the London Games, said the UK's Prime Minister David Cameron.
In a bid to highlight the economic benefits of hosting the games, after a series of reports saying that the cash generated from tourists will barely offset the decline in local and commuter expenditure, Cameron said the Olympics will be a once in a generation opportunity to showcase Britain as a place to do business.
"I am confident that we can derive over £13bn pounds benefit to the UK economy over the next four years as a result of hosting the Games," said Cameron, while announcing that the government is running a series of industry summits during the Games to back its sales drive. "I am certain that when you add in the benefits from construction the total gain will be even greater."
The UK has pumped around £9bn of public money into building venues for the London Olympics and providing security. However, the organisers raised a further £2bn to stage the London Games through sponsorship, ticket sales and other corporate activities.
According to a study by Lloyds Bank, which is a corporate sponsor of the London Olympics, the Games will contribute £16.5bn to the economy by 2017, which would mostly filter in from construction and tourism.
However, according to a report by ratings agency Moody's titled London 2012 Olympics Provide a Short-term Boost, But No Gold Medal for Corporates in May this year, the London 2012 Olympic and Paralympic Games will provide a short-term boost to corporate sponsors, the hotel sector and increase brand exposure, but it will be unlikely that it will provide a long-term positive impact to the UK economy and in some cases, create a weak year-on-year comparison when some companies report their results next year.
It added that the Games will only provide a short-lived lift to corporate earnings and most of the impact from infrastructure developments on UK GDP has "probably already been felt."
"Corporate sponsors will benefit [the most]," said the report. "Given the largely one-off impact of the Games on corporate profits, we would not expect this alone to have an impact on our ratings, which tend to take a longer-term view."
One of the key misconceptions that Moody's points out is that the various projects and infrastructure work to prepare UK venues to host the games, the Games themselves and the visitors and activity that they engender, will automatically mean significant macroeconomic impact.