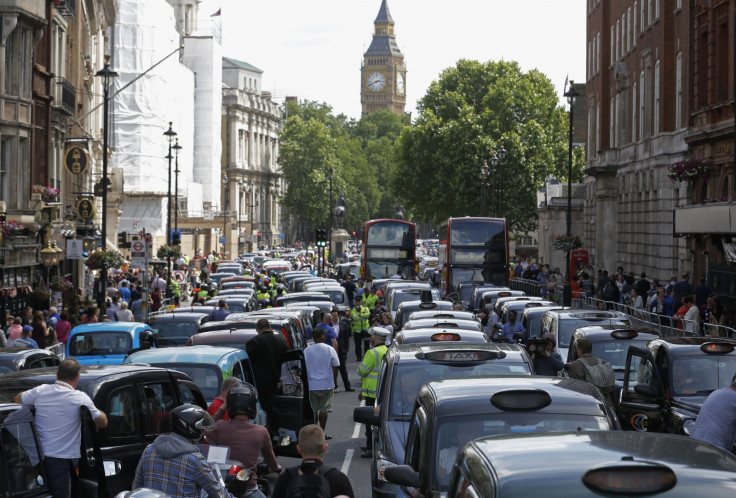 London has become Europe's most congested city overtaking Brussels. The city, already known for traffic snarls, has now become the gridlock capital with drivers on an average spending about four days in a year in traffic jams.
According to data released by the traffic analytics firm Inrix, London motorists spend about 96 hours stuck in gridlock - a 14-hour increase from 2013. Multiple reasons including population growth and the boom in e-shopping have been cited for the sharp rise in the congestion.
"It is not that London is doing anything bad, it is just all these things are happening so quickly. You cannot build any more roads in London, so now it is about managing that congestion," said Scott Sedlik, chief of Europe, Middle East and Africa at Inrix.
Besides London, Greater Manchester has also witnessed a growth in the gridlock time from 46 hours to 52 hours a year. On an average, drivers spend 30 hours stuck in traffic across the UK making it the fifth most congested country in Europe.
"For the third year running, traffic in the UK is up. The strong growth of the UK economy and rise in urban populations have resulted in an increase in the demand for road travel, significantly driving levels of congestion up across the country," Bryan Mistele, president and chief executive of Inrix, said.
More than half of the 13 European cities examined in the report have experienced rise in the levels of traffic congestion from 2013 to 2014.
Traffic remains a major concern for London businesses with reports suggesting the problem is impacting the economy badly. A joint study by Inrix and the Centre for Economics and Business estimated the cost of congestion at about $8.5bn in 2013.
"London is a very busy place and it is getting busier. We should not be surprised that we are seeing congestion," said Garrett Emmerson, chief operating officer for roads at Transport for London, reported the Financial Times. "We do not have the grand boulevards of Paris. We are a medieval city in many ways, certainly in central London."