A third of property for sale in the ultra-expensive London borough of Kensington and Chelsea has had its asking price slashed by an average of 8% as prime markets in the city begin to slow down. A recent trend monitored according to research by Propcision, a property market analyst.
The borough with the second-highest portion of properties listed on the market to cut asking prices is Kingston-upon-Thames at 30%. In joint third place at 29% each is Hammersmith & Fulham and Wandsworth, where the Nine Elms regeneration is taking place.
There has been a marked slowdown of activity in traditional prime central London property markets in recent months. Tax hikes on expensive and additional properties have driven up transaction costs, cooling demand.
Falling commodity prices such as oil, weakness in the Chinese economy, and uncertainty ahead of the UK's referendum on its membership of the European Union (EU) have also weighed on overseas demand for London property. But there is still strong investor activity in emerging prime areas, particularly in the east of central London, where property is cheaper so value for money can still be found.
"The data suggests that we are seeing resistance in the central London market," said Michelle Ricci, co-founder of Propcision. "To make an analogy, it's like throwing a ball into the air, at some point the ball will stop moving upward and shift downward. In statistics, we call this a point of resistance.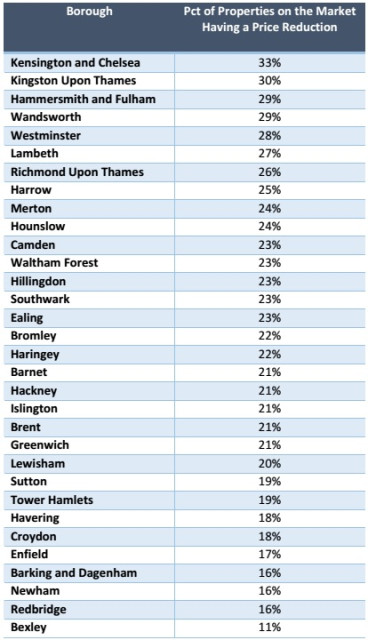 "The upward trend prime central London enjoyed for the past few years has started to show signs of resistance. This is typically associated with the start of correction although not necessarily a downward trend as in the ball analogy. We feel the data suggests asking prices are holding steady with levels seen in the past six months. However, that said, there are particular areas of vulnerability that may start demonstrable evidence of a downward trend — most notably new-builds."
From steady to downward?
One project that has come under scrutiny is the Battersea Power Station development, backed by a consortium of Malaysian investors. There have been reports of Chinese investors walking away from their deposits rather than going through with purchases of luxury flats being built in the area, as well as a series of asking price cuts by those already selling up before all the phases of development are even completed. But the project's developers dismiss such concerns, insisting the small minority who have already sold up made significant returns and that investors were not jumping ship.
"It has already been observed that certain pockets within central London postcodes have undergone sharp asking price reductions for new builds," Ricci said. "However, values still remain relatively high. We are monitoring these areas for evidence of accumulation of housing stock alongside further reductions. If this proves to be the case, then the market could change from 'steady' to downward for properties fitting certain characteristics. This may subsequently affect other areas of the market."
In its Prime Central London Index for March 2016, the estate agent Knight Frank said the market saw its worst price performance in nearly six-and-a-half years as sellers accepted the post-financial crisis boom was over. Prime prices grew by 0.8% on average over the year to March 2016, the slowest rate since October 2009.
Knight Frank said growth was "polarised" between prime areas in the east and west of London. Investors are shifting from the most expensive areas to those where there was still money to be made, such as Islington. "In higher-value western areas around Hyde Park, recent tax changes have had more of a dampening impact," said Tom Bill, Knight Frank's head of London residential research. "Meanwhile, the opposite is true in traditionally lower-value markets including Islington and the City & Fringe. As a result of this polarisation, Knight Frank forecasts a -2% decline in western markets and 5% growth in markets east of Mayfair and south of the River Thames in 2016."