London property: Nine Elms and Battersea Power Station 'will be full in five years'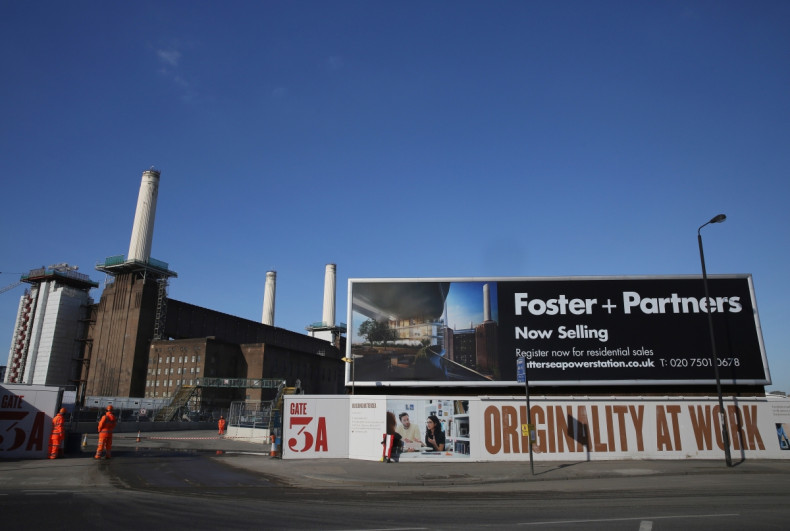 New property in the Nine Elms area of London will fill up and is still a valuable long-term investment, said the boss of a London estate agent agent, despite criticism that the area is oversupplied with luxury new-builds.
There are more than 20,000 new properties set to have been built at the conclusion of the Nine Elms regeneration, which includes the redevelopment of Battersea Power Station. Some of the unfinished properties have already been listed for resale and their asking prices slashed, but the developers say this is just 10% of the investors so far, who have made price gains of 30% on average.
"They have built a lot of properties; like any supply and demand thing, that will take a bit of time to push through," James Evans, chief executive of Douglas & Gordon, told IBTimes UK. "My view on property is long-term. If you're looking to invest or purchase in the immediate time, then you're probably buying into a very valuable market, I don't suppose there's any major problem in that at all.
"If you look back in three, five, seven years' time, you'll have a fantastic asset in one of London's premier marketplaces in Battersea... Property is a patience game, that's all it is. Yes, there's a lot of property out there at the moment. If we were talking again in five years' time, it'll be taken up. It'll all be full. And they'll be looking at the next large development, and then we'll be having the same conversation about oversupply at that point. Then if you take a good long-term view of that, it will fill up. That is London through and through."
Brexit
Evans, who was south London director at Foxtons before joining Douglas & Gordon in November 2015, is sanguine about the possibility of a Brexit in the upcoming EU referendum on 23 June.
While he said the referendum has created indecision and uncertainty in the market, making estate agents' jobs harder in the short-term, a Brexit would not fundamentally change the property market in London, which has a severe imbalance between supply and demand.
"Do I think people will stop purchasing in London if we leave the European Union? Not really, no," Evans said.
"London has so many reasons why people want to be living here and why they want to trade here. Those will outweigh any major fallout in the housing industry.
"It all comes back to there's just not enough housing in London. We saw in the financial crisis in 2008, the market bounced back remarkably quickly. Money was made very cheap, which certainly helped, but in many of our offices we've got 20, 25 buyers per property. That is just a basic economic supply and demand point. As long as there is some confidence in those 20, 30 buyers per property, they're going to trade."
Distortion and unease
Evans said the government must stop intervening in the property market to let it breathe. He would like to see a relaxation of planning rules in London, particularly around building height. He also opposes the recent tax hikes on landlords and buy-to-let investors, which he said will not solve the root problem of a lack of supply. Government intervention in the market "creates distortion, it creates unease, it creates uncertainty, and all of these things are problematic. The housing market in London is what it is and should be left to do what it needs to do. All markets will find their moment."
As home-buyers ripple out from the centre, trying to find bigger properties and better value in outer boroughs, Evans said Douglas & Gordon will be expanding further east and south in the city. He said Southfields in Wandsworth is seeing some of the highest demand of all the firm's offices, with sales 10-15% higher in the area than a year before. "Not everyone can afford to live in the most prime parts of London, but that doesn't matter," he said. "There are some amazing parts of London."