There is a "new build crisis" in inner London areas as prices of newly constructed luxury property run away from the reality of this part of the market where there is a bumper supply, according to a City investment manager. Cranes hang across the London skyline from the docklands in the east to Nine Elms in the west as a number of new developments take shape.
London Central Portfolio (LCP), which runs funds investing in the city's property, said buyers are paying a significant premium for new build property in London compared with older units. Over time, that premium shrinks as new build properties grow in price significantly more slowly than older ones, and see greater volatility in times of crisis.
"Investors are paying a heavy premium for newness which, by implication, has built-in 'obsolescence'," said Naomi Heaton, CEO of LCP. "At re-sale, units in big schemes which are essentially 'commodities' can only compete on price. They are also unlikely to appeal to the international buyer, the driver of the new build market, once they are second-hand. These factors make them far less resilient to market pressures such as a global financial crisis.
"Shrewd investors should consider buying at the stage in a development's life-cycle when the premium has been eroded and a downward overcorrection in prices often takes place. They should also consider older property in London's classic buildings which see much more stable price appreciation. These might need refurbishment, but undertaking this offers the benefit of an immediate uplift in value, rather than paying a premium to a developer."
'Extensive oversupply'
LCP said its research shows that in 2015, new builds in inner London were sold at an average price of £659,459 versus £525,307 for older properties, a price premium of 25%. In prime central London areas — the most expensive postcodes in the middle of the city — the premium is 20%.
But sales volumes of new build properties are much lower in prime central London. Supply is just 300 new units a year on average because there is less land available and more protection of existing buildings. However, there are 75,229 new units in the pipeline in inner London areas, such as Wandsworth and Tower Hamlets, and LCP said this means new build properties will not be able to justify the high prices being demanded by developers. A greater supply may also mean lower rent yields than expected for investors.
The asset manager analysed the price growth of one unnamed "particularly well-known development launched in 2003" which it said lagged 26% behind prime central London property on average. Moreover, when the financial crisis struck, this development's prices sunk back to their 2004 level, while the rest of the market remained 44% above it.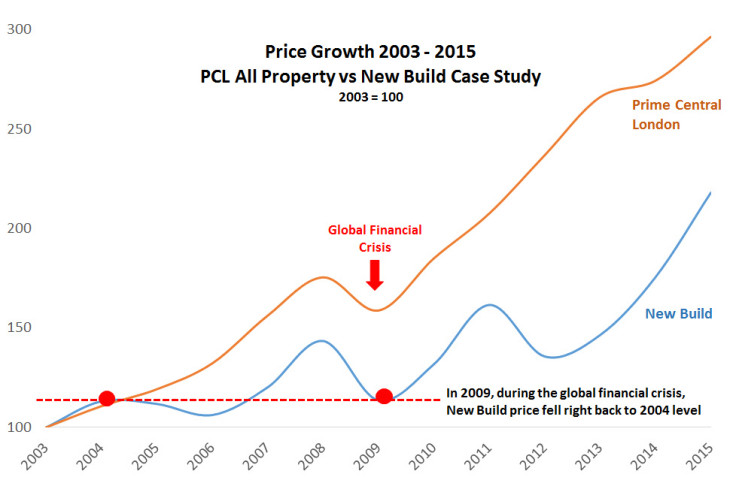 One of the city's development projects that has come in for scrutiny amid talk of oversupply of luxury new builds is the Battersea Power Station project in the Nine Elms area, which is undergoing massive regeneration. Propcision, a property-focused search engine, said its algorithm noted 89 asking price cuts to Battersea Power Station homes listed for re-sale since January 2016 alone. One four-bedroom town house first listed for re-sale in July 2015 for £6.5m was reduced on 12 February to a £4m asking price, a 38% reduction. But a spokesperson for the developers said of those investors who purchased Battersea Power Station property so far, only 10% have re-sold. The average growth in price for those properties was 30%, they added. Not all of the Battersea units have been finished or released to the market yet. Around 1,500 have been sold in two years.
"In LCP's opinion, the new build effect in inner London is likely to take a heavy toll on areas like Battersea to Nine Elms where there is extensive oversupply of new property," Heaton said. "With over 22,000 units being built there, a significant softening of prices is likely in the foreseeable future, until the new build premium is eroded and prices come back in line with market averages. Tower Hamlets, home to Canary Wharf, already sets a precedent. With the enormous number of new builds developed there over the last decade, prices are up just 37% since 2008, compared to prime central London, which has seen price growth of 68%."
Across the whole of the London market there is a serious shortage of housing which has driven up rents and prices in recent years. There are around 25,000 new homes built annually in London, around half the level needed to meet demand as the city's population grows. The ONS said the average house price in London hit £536,000 in December 2015 after rising 9.4% over the year. For England as a whole, the average increased 7.3% to £301,000.