There are plenty of reasons to feel pessimistic if you work in and around the prime central London property market. Chancellor George Osborne has attacked the sector, powered by wealthy overseas investors, with tax hikes. Those who usually put their money into luxury London property, the natural resource-rich elites from Doha to Lagos, Moscow to Riyadh, are licking their financial wounds after the oil price plunge. Prime London property – the most expensive in the city – has boomed in recent years with eye-watering price rises. But now prices and sales are dropping.
Amid the talk of bursting bubbles and bear markets, is prime central London property dying? In 2015, there was 21% fewer prime central London transactions when compared with the year before, said LonRes, a property research firm. Prime prices dipped 0.1% over the year on average. Hedge funds have started shorting the shares of Berkeley Group, a big developer of luxury London property, reported the Financial Times, a sign the good times may be well and truly up.
But buying agents, who represent wealthy clients from all over the world wanting to invest in London property, insist there has been no dramatic shift in activity or appetite. And you cannot look at prime central London as a monolith – a common fallacy among property eschatologists – because it is made up of different markets and price brackets, each with their own variables. Some people buy flats for £1m, others, big period houses for £30m. Prime property in Islington saw prices rise by 7.7% over the year to January 2016, according to Knight Frank's Prime Central Index. Knightsbridge, on the other hand, saw a 6.4% fall.
"I still think there'll be a fairly busy market below £1m and £2m, and if you go up through the price ranges from there I think things will be slower," said Caspar Harvard-Walls, a partner at the buying agent Black Brick, to IBTimes UK. "You'll see some significant price correction. But that's not all of prime central London. If you look at what's been happening in the City and fringe areas, they've actually grown and done really well. So we can't really treat it all as one area. It's too big for that. There are too many differing driving factors going on just to say that it will all come down. I don't think that will be the case."
London the safe haven
While weak emerging market currencies against a strong sterling has not helped, what made many foreign investors think twice are the tax changes. Osborne sharply increased the stamp duty on expensive properties at the end of 2014. And he will add an extra 3% on top of existing stamp duty rates for all purchases of additional property from April 2016. More than these, he has for the first time introduced capital gains tax on profits made from property sales by foreigners. Other changes, including a crackdown on the non-domicile tax status, have had the cumulative effect of deterring some buyers from entering the London market, or making purchasers in the top price brackets, where transaction costs would be the most punitive, think harder.
But this is not enough to pull the plug on prime central London property. Not only is there still money to be made in Islington, for example, but there is another big motivator for foreign investors in London – its safe haven status. In a world of crashing markets, war, dictators, and corrupt officials, London property is still a useful warehouse for foreign capital, even if its storage facilities are a little more expensive these days. Liberal democracies are stable and you are unlikely to lose your money in a coup d'état by some beret-wearing rogue general.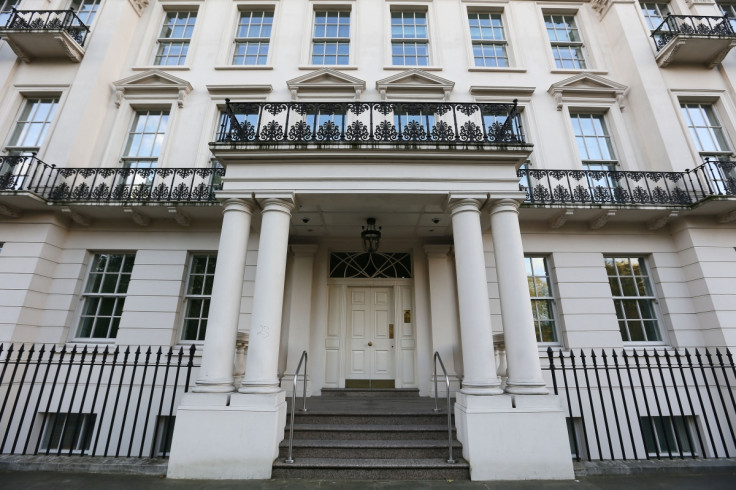 "It is the variety of purchasers from all over the world and transparent government that we believe makes prime central London a stable market," said Nick Jaffray, director of Palmstar, a property buying agent in London, to IBTimes UK. He added that in the previous week, Palmstar had taken on three new clients, two of which already owned prime property in central London. "At any given point there are concerns around the world, be it the Russian ruble, the stock market in China, or most recently the oil prices affecting Middle Eastern clients depending on their exposure. I remember three years ago I was buying flats for clients and 12 months later selling again after they had appreciated up to 25%. The market was concerning and actually no one wants to be invested in an unstable property market. There's always going to be a small percentage of people who want something that's a bit too good to be true, but the reality and the aim for the prime central London property market is maintaining stability and traction for the foreseeable future."
Black Brick's Harvard-Walls said his firm is "still seeing a significant number of foreign investors looking at London as a safe haven, which has been true for a very long period of time. Especially within the Middle Eastern region, we're still seeing a lot of flow of clients coming from there with what's going on with the oil price in particular, and also political uncertainty means they are looking to put money into the London residential market because it's deemed to be somewhere safe to have their money invested".
Harvard-Walls added that he does not see a broad correction in prime central London prices because "there is still a lack of supply and enough demand for that not to happen". Moreover, there is a lesson from the 2008 financial crisis: people will hang onto their expensive properties rather than panic and sell up. "Even if prices have gone down, if they don't need to sell then they won't sell," he said. "That's exactly what happened in 2008. People sat it out. They rented their properties rather than selling them and then benefited when the market came back in 2009 and 2010."
Nine Elms
As LonRes put it in its Residential Review for Winter 2015/16, it is easy to dwell on the negatives about prime central London. "Recent changes to tax rules and buying costs have increased the cost of owning a property in central London and will undoubtedly put off some potential buyers from investing," said the report. "Yet, the draw of prime central London remains strong and should not be underestimated. While there may be some short-term pain we have been here before. It's worth remembering that following the banking crisis, still less than a decade ago, prime central London was one of the first markets to react, but was also the quickest to bounce back."
This is not to say there are no issues in the prime London market. The Nine Elms project around Battersea Power Station, backed by Malaysian developers, will see nearly 20,000 units built. It has had heavy speculative foreign investment, with Chinese buyers in particular buying the properties off plan. Investors need only lay a small deposit down, with the full balance due on completion, leading some to gamble on future price rises. But there has been a wave of resales before the properties are even finished amid concerns that there is an oversupply in the area and that the prices demanded are detached from the reality of the local Wandsworth market.
Jaffray said the Battersea developments, as a consequence, are not ones he would show his clients. But this is just one project. When it comes to high-quality, prime London property, with all the bells and whistles, in the right locations, at the right price, there is still an undersupply, he said.
And some on the selling side of the London market also say, after a bruising few months, the early signs for 2016 are good. Dominic Agace, chief executive of Winkworth estate agent, told IBTimes UK that the firm's China desk is the busiest it has ever been. China is set to be the world's largest economy in a matter of years and is creating new generations of wealth investors as it slowly opens its economy. While Agace said he thinks 2016 will be "patchy" for prime property, Winkworth's start to the year has been a pleasant surprise.
"We expect it to outperform what we initially said, but it's early days," he said. "I think central London is coming to a point where it will have absorbed the stamp duty. I don't think it's quite there yet. I expect that to happen hopefully through the course of this year and the signs are it's started better than expected."