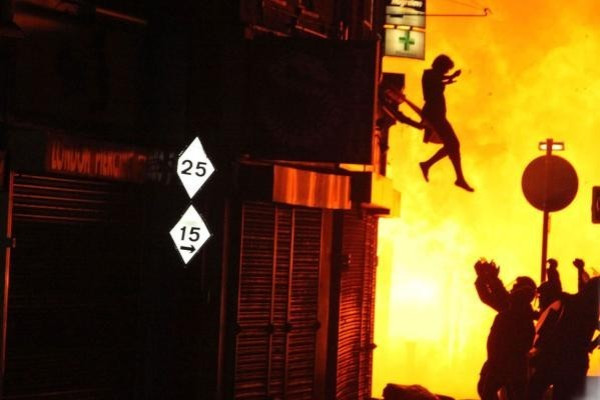 The government's attempt to tackle gang culture since the riots in 2011 is failing and may even have made the situation worse, a report has said.
The Centre for Social Justice study, Gangs - Time to Wake Up, says there has been a lack of follow-up work following the arrest of gang leaders, or 'elders', meaning younger and more volatile members have found themselves as leaders very suddenly.
According to the report, the removal of over 200 gang elders in London has led to a power vacuum, in which younger members resort to more extreme violence in order to assert their status as the new leaders. This has also led to increased tensions between rival gangs.
The report claims that there has been an escalation in gang violence "as youngers vie for status and respect using the currency of violence". This, it says, is a "dangerous turn of events".
Christian Guy, managing director of the CSJ, said: "[The removal of elders has] created a Lord of the Flies environment in which anything goes.
"Gangs played a significant role in the riots and it is dangerous to pretend otherwise - in London at least one in five of those convicted was a known to be part of a gang.
"The prime minister declared an all-out war on gang culture after the riots, which culminated in a radical strategy heavily influenced by the CSJ's own gangs research.
"But one year on, political commitment is waning and the government and local authorities have mistakenly assumed that its new strategy represents job done - it could not be more wrong.
The report adds: "Gangs have upped the ante in terms of recruitment. As it becomes harder to get into employment, young people are turning to gangs as alternative."
Patrick Regan OBE, gang culture expert and founder and chief executive of the charity XLP, confirmed these concerns.
"Everyone tells us the gang problem is getting better, but for organisations working at a grassroots level we look out of our window and that's not what we see," he said.
Another aspect of gang culture highlighted in the report is the increase in the number of female gang members, and the rise in sexual violence and exploitation. The authors note that one 13-year-old girl gang member was subjected to sexual exploitation, and was "grooming her 10-year-old sister for the same purpose".
Guy said: "Fundamental to tackling gangs is preventative work in the most dysfunctional and struggling families and schools to stop the conveyor belt into gangs, yet many of our witnesses reported that early prevention work has 'fallen off the radar'.
"Furthermore, nine out of 10 CSJ Alliance charity respondents reported that they had not been approached to take part in any preventative work following the riots.
"Such a lack of engagement with those who really understand gang culture is indicative of a government being asleep at the wheel."
The report has called for the creation of a new multi-agency task force in Whitehall, which would place as much focus on prevention as there is on enforcement.
Following the riots, the Metropolitan Police Service established its first ever centralised database of the most harmful gang members. However, the police said they cannot tackle gang violence alone.
The report says that in the absence of a wider government strategy, any progress made by the police risks being undermined.