London Riots: Google Map Reports Several New Looting Incidents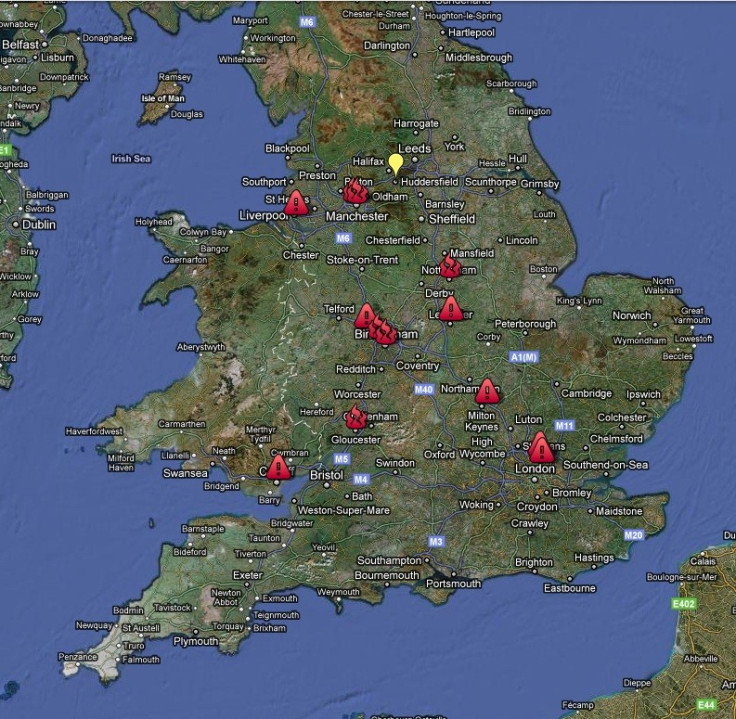 A new map has appeared reporting several new incidents of rioting and looting across the UK.
The map in question appeared Aug. 9 and apart from the current six riot locations confirmed by the UK Government -- Birmingham, the West Midlands, Nottingham, Bristol, Manchester, Liverpool -- also indicates several other "confirmed" incidents across the country.
These as-yet unconfirmed reports include alleged outbreaks in Milton Keynes, Cardiff and Gloucester.
The map claims to chart all confirmed and unconfirmed incidents, using yellow markers to indicate unconfirmed reports, red exclamation marks for confirmed incidents and red flame symbols to show areas afflicted with arson attacks.
The riots being charted on the map started over the weekend in London's Tottenham area. While the riots originally started as a protest against the fatal shooting of Mark Duggan by armed police, they have since devolved into looting, with incidents subsequently being reported in several other cities.
The Metropolitan Police and Direct.Gov agency have both released statements containing advice for citizens looking to avoid affected areas.
The map claims to use police reports and eyewitness testimony to formulate its coverage.
To date there have been several "false alarms" sounded about alleged rioting and looting outbreaks, thanks in small part to several news agencies' tendency to take unverified tweets as factual.
The fake incidents have included reports of outbreaks in London's Surrey Quays, Putney and Covent Garden areas. Further reports also suggested a re-emergence of violence in Croyden and Sutton late last night -- both reports have since been proven false.
The map itself can be viewed here.
© Copyright IBTimes 2023. All rights reserved.