Tech City will die in 18 months unless the government and investors pump hundreds of millions of pounds into keeping startups alive, as London's booming technology hub finds itself at a precarious tipping point.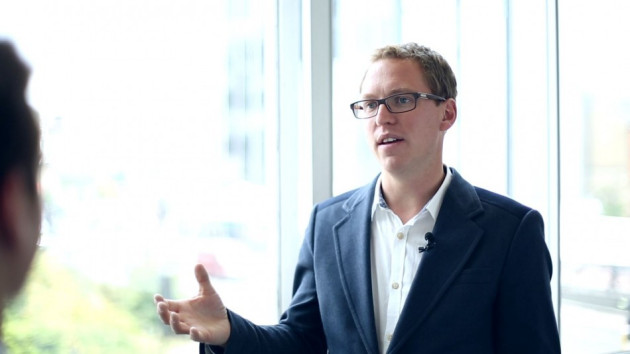 This is the stark warning issued by Huddle CEO Alastair Mitchell, who told IBTimes UK that all of the work entrepreneurs, investors and the government have put into Tech City in east London could amount to nothing, unless medium-sized businesses are given the financial support they need to grow.
"If we don't see a change in this mid market, all of the efforts that have gone into Tech City will be for nothing. All of it."
Mitchell sees only two possible outcomes if this change doesn't occur:
"What will happen is you get a bunch of companies that start well but won't find follow-on investment. Then one of two things will happen - they'll either die on the vine, or they will go to the US. Simple as that. We have to get it going here, it's critical."
A provider of cloud-based applications for enterprise customers, including much of the UK government, Huddle sees itself as one of the biggest and brightest stars in the Tech City cluster, and as a startup which has almost reached a position from where it can reinvest its finances into helping others.
A warning to London
It is this cycle of successful companies injecting money into local startups, who then in turn grow and fund the next generation, that Mitchell says needs to happen in London - but a risk averse nature among investors is keeping them away.
Mitchell says London has a window of "one to two years...maybe just 18 months" to grow startups into multi-billion pound businesses who can float on the stock market and reinvest in new companies.
"Unless you get companies growing fast, exiting [floating on the stock market], and putting [money] back in, then the whole thing dies."
As for Huddle's own exit plan, Mitchell says an initial public offering of shares (IPO) is definitely in the pipeline, but not until after 2014. When asked if Huddle will choose the London Stock Exchange over the Nasdaq or New York Stock Exchange, as used by Facebook and Twitter respectively, Mitchell said he would take his company "wherever is best - that's a warning to London."
Mitchell says the city needs to do more to promote startups:
"[London] needs to do a lot of work to encourage the tech community to IPO there. We wouldn't wait [for London to improve], we could IPO in London or in the US, New York. Where we IPO will depend on how well that market's doing."
Mitchell says Tech City currently has "a handful" of startups that are approaching IPO, including Mind Candy, Hailo, Wonga and Huddle, but none are yet ready to float and invest money into new startups.
All for nothing
Speaking in an Old Street coffee shop full of young entrepreneurs tapping away at MacBooks, Mitchell said: "Investment is good in the lower end, but not in the middle, and frankly if it doesn't get better in the middle then all this work will have been for nothing - that is the criticality. We need to see more large scale [investment] - I mean not deploying ones to tens of millions of pounds, but tens to hundreds of millions of pounds to turn a good business into a global leader."
Asked if there are previous examples of technology hubs that have fallen by the wayside, Mitchell explained how Cambridge, home of chip designer ARM, initially enjoyed success, but "didn't kick off to become the next Silicon Valley.
"It carried on being good, but not great and it could have been great. We could have been talking about Tech City in Cambridge instead of London because it had the head start. But those successful companies didn't reinvest."
Risk Averse
As has been said previously, by equity expert Edmund Truell and SAP Ventures boss Nino Marakovic, UK investors are too risk averse, hesitant of giving startups and maturing companies the funding they need to continue their initial growth.
But the government can also play a bigger role, Mitchell says. "We need to see the government stepping in and putting forward the same sort of focus and incentives it placed at the low end onto that mid market. We need to see investors stepping up and being less risk averse and employ more capital here, the whole market needs to work together on this."
"We're reaching a tipping point," Mitchell repeats, warning that Tech City's future hangs in the balance, and could just as easily fail as it could blossom into a genuine rival to Silicon Valley.
"There's a rocket ship," Mitchell concludes. "We either ride that rocket ship, or we get left behind."