London terror suspect Mohamed Amoudi tried to join Isis and was involved in 'active plot'
Mohamed Amoudi, 21, was snatched in anti-terror raid in north-west London on 27 April.
A Yemeni-born British man who was snatched in a London anti-terror raid was previously suspected of joining Isis, but was released without charge.
Mohamed Amoudi, 21, was one of five people arrested by balaclava-clad armed officers in Harlesden Road, Willesden, on Thursday (27 April).
He and his associates were under heavy surveillance and were allegedly engaged in an "active plot" to carry out an attack in central London, before counterterrorism officers stepped in.
A source told The Times that officers would have preferred to let close monitoring run to gather more intelligence, but said "sometimes you have to act" and that "the balance was tipped" on Thursday.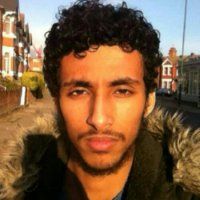 Mohamed Amoudi was questioned by police on his way back from Turkey in 2015.
LinkedIn
Earlier in the day, Amoudi reportedly evaded undercover officers who followed him onto a double-decker bus, but counterterrorism police eventually caught up to him outside Willesden Green library and arrested him.
Armed police then fired gas canisters into his address before storming the building. A 21-year-old woman, said to be involved in the plot, was shot in the raid and officers arrested a 16-year-old boy and a 20-year old woman.
Two further arrests were later made when a man and a woman – both aged 28 – returned to the address. A 43-year-old woman was also arrested at an address in Kent.
Social media footage of the raid showed that five shots were fired during the incident. Police confirmed that the shooting has been referred to the Met's Directorate of Professional Standards. Investigating the events surrounding a police officer shooting a firearm is standard practice in English police forces.
The wounded woman was taken to a London hospital where she remains in serious, but stable condition. She remains under police guard but has not been arrested due to her current state.
According to The Times, Amoudi had travelled to Turkey in 2015, but was deported by authorities after he was suspected of wanting to travel to Syria to join Isis. He was then questioned by officers in the UK but was released without charge.
Extremism at university
Amoudi, who studied for a master's degree in physics at Queen Mary University of London, was pictured attending a talk by the controversial cleric Haitham al-Haddad weeks before embarking on the trip.
The talk was hosted by the university's Ideological Society, which has been branded a "hotbed for extremism".
Former radical Islamist Sohail Ahmed, said Queen Mary University as having a "culture conducive" to encouraging extremism, when speaking to the East London Advertiser in August 2015
"It poses a very serious risk," said Ahmed. "I know a good few people who were not radical at all when they entered university, but they end up talking about some very radical views once they've listened to a few talks and got riled up and impassioned by fiery speeches.
"There would be discussions about jihad [struggle], about fighting the kuffar [non-Mulisms] and establishing the khilafah [Arabic for caliphate]."
At the time of the report, the East London Advertiser stated that Queen Mary University and its Islamic Society did not comment about Ahmed's statements.
Amoudi's arrest came hours after a man armed with a "backpack of knives" was arrested in Whitehall, central London. Police confirmed the arrests were not linked.
Who is Haitham al-Haddad?
Haitham al-Haddad is a British scholar and TV presenter. He sits on advisory boards of some UK Islamic organisations, including the Islamic Sharia Council.
He has provoked controversy for calling Jews "enemies of God and the descendants of apes and pigs", praising al-Qaeda leader's Osama Bin Laden, describing homosexuality as "a criminal act", defending husbands beating wives, and claiming that Islam permits female genital mutilation (FGM).
Haddad is described as a follower of the Salafi school of Islam. This sect, which was formed by Muslims who fought against Russia during the 1979-1989 Soviet-Afghan War, promotes "physical jihad" – acts of terrorism – aimed at promoting what its members view as "true Sunni Islam".