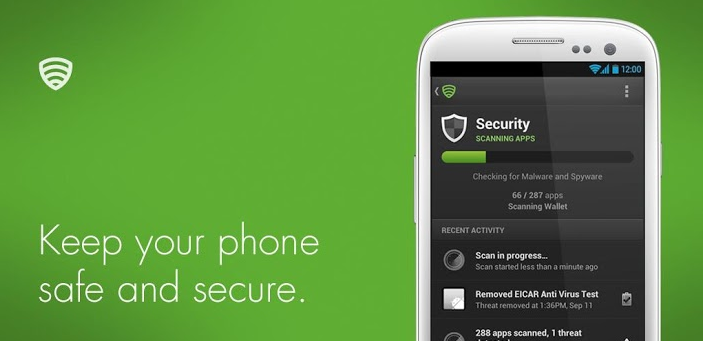 Platform: Android

Publisher: Lookout

Cost: Free (£1.99 per month for Premium version)
Lookout Mobile Security Premium (Android)
With mobile malware on the rise, especially on the Android platform, coupled with the huge increase in the BYOD phenomenon, the need to protect your smartphone is greater than ever.
Consider the amount of personal information that is on your smartphone. Contact details, photos of your family and friends, intimate messages, sensitive emails and much more.
Whether you use your phone for work or not, it has the potential to contain enough information about you colleagues that cyber criminals could use it to mount targeted attacks against people you work with.
For years now security companies have been warning users about the threat of mobile malware and the need to buy security software from them in order to protect their phones.
But nothing happened, and the companies were accused of crying wolf. However, things have changed.
Ten-fold increase
In its latest report F-Secure recorded a ten-fold increase in the amount of Android-based viruses it detected in the last three months.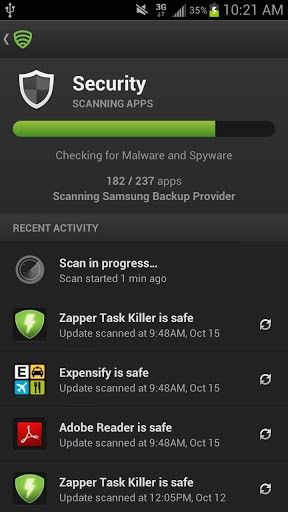 And so we come to Lookout Security & Antivirus3.0 - the third version of an Android security app which comes in two versions: free and premium.
The free version (which is ad supported) gives you continued anti-malware protection, contacts back-up as well as a remote location tool. The premium app, which costs £1.99 per month or £19.99 for a full year, adds 2GB of cloud storage for photo back-up, a safe browser feature that scans for malicious links in the background and remote lock and wipe capabilities.
Once you initially install Lookout, set-up is pretty straight forward, and how long it takes will depend on how many apps you've installed and how many contact are in your address book.
The interface is neatly laid out, without too much information being presented all at once.
Every time you open the app you are greeted by a green banner telling you "Everything is Ok" which is nice and reassuring.
Apps
Both versions will monitor every app you have installed and new apps you download from the Google Play store. With so many dodgy apps now appearing in the Play store this reassures you that the apps you are downloading won't be accessing you personal information without your permission.
According to testing by PCMag, Lookout performed very well in comparison with other mobile security apps on the market, from the likes of F-Secure, MacAfee and Avast!
Backups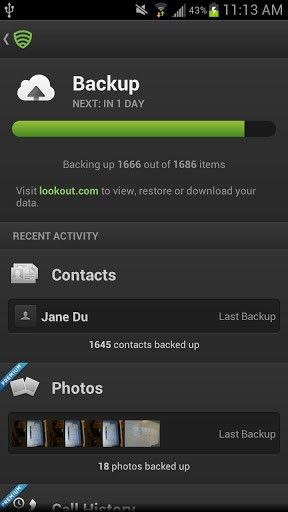 While you can sync your contacts to your Google account, it is always good to have another backup, and it's a similar case with photos. You may already upload all you photos instantly to Google Plus, but Lookout will make sure you never lose another picture. However if you take a lot of photos, then your 2GB allowance will fill up pretty quickly.
Call history is also backed up which can be a life saver if you forget to save a number to your phone and then switch phones, thereby losing all your call history.
Only contact back-up is available in the free version, with photos and call history back-up coming with the Premium option.
Missing Device
The Missing Device function is available on both the free and Premium services. It is similar to the Find my iPhone function built into iOS.
While you can locate your phone on a map within the app itself, this is not much use if you lose your phone, so Lookout's browser portal is what you really need in case you lose your phone.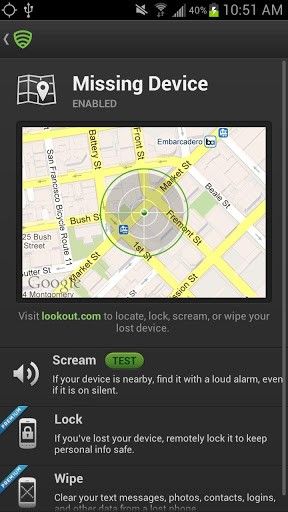 This will locate you phone and allow you to initiate a Scream function, which makes a blaring sound on the device which could help you locate it under a pile of washing, or alert someone nearby that someone has stolen your phone.
The Premium version add two extra and very important features - remote lock and wipe. These allow you to lock a phone if it has been stolen, and, if there's no hope of getting it back, wipe all the data from the phone's memory.
Unfortunately, unlike some competitor apps, you don't get an alert when your SIM card is taken out, which is likely the first thing a criminal will do if he/she steals your phone.
Signal Flare
Of course finding your phone using the geolocate method above is only possible if the phone has some battery. So, the latest version of Lookout adds a new feature called Signal Flare, which automatically records your phone's location just before your battery dies.
This is good if you've simply misplaced your phone, but if it's been stolen, it's likely the criminal won't be in the same place as when the battery died.
Safe Browsing
Drive-by downloads where malware is installed on your smartphone when you visit a malicious website are already happening. Therefore the new Safe Browsing feature on Lookout 3.0 (this is part of the Premium package) is a welcome addition.
It works in the background and a little pop-up window appears very briefly to let you know the site you are viewing is safe or not. It works well and with drive-by downloads only likely to increase on mobile phones, it's a good feature to have.
Lookout has just updated the app so safe browsing now works with Chrome as well as the stock Android browser, but it still doesn't work with third-party browsers such as Opera and Firefox.
Verdict
Lookout is a superb piece of software with a couple of really innovate features - like Signal Flare, which is likely to be copied by other vendors soon.
The interface is friendly, easy to use and for the most part you never even know its there. It backs up and scans your system daily (if you want it to) and unless there is an issue then it won't affect your smartphone's performance.
Extending safe-browsing to Firefox and other browsers would be nice, but overall Lookout is the best Android security app we have tried to date.
Score:9/10
The Good
Intuitive, friendly interface
Signal Flare feature
Doesn't affect your smartphone experience
The Bad
Safe Browsing only in stock Android browser and Chrome