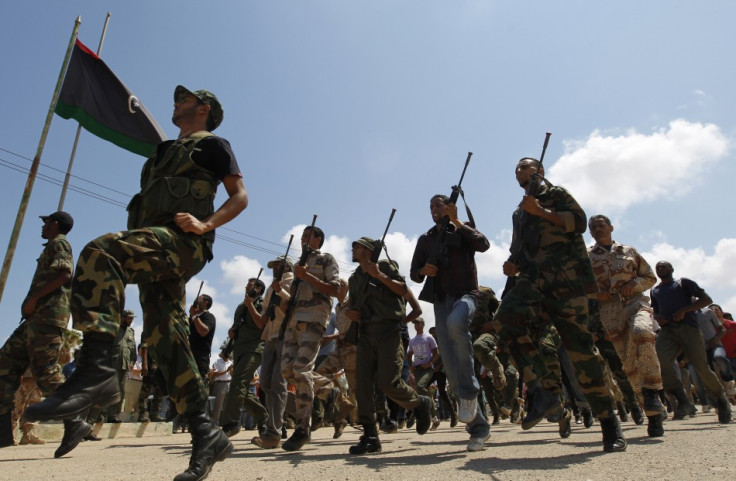 According to a new report by the Daily Mail, young boys have been recruited by the rebels to help fight Gaddafi and his troops as the conflict keeps on dragging on.
The newspaper says that boys as young as seven have been pictured carrying automatic weapons and cleaning rifles in Misrata as rebel forces battle loyalist troops in the outskirts of Zlitan.
While pointing out that the young boys have not been involved on the front line, the newspaper says the boys are clearly being trained to operate the weapons.
Since the uprising broke out in February, armed rebels have seized control of much of Libya's east and set up their administrative quarters in their stronghold, Benghazi.
They also control the coastal city of Misrata and much of the Nafusa mountain range south-west of the capital Tripoli, but as the conflict continues, and despite Nato's help the rebels have struggled to gain consistent momentum and have called for funds, medicine, money, food and fuel as they say they suffer serious shortages.
Just before it was announced that France and Qatar provided them with arms, the rebels fighter were forced to construct makeshift weapons and workshops to take on the better-equipped and trained Gaddafi loyalist troops.
The new allegations come at the same time Human Rights Watch (HRW) condemned rebels for looting shops, homes and medical facilities in towns seized in the western mountains.
The Human Rights Watch report, based on interviews with local fighters and residents, said that after seizing towns, rebel forces burned down a number of homes believed to belong to Gadhafi supporters and carted out supplies from stores and medical facilities.
In the village of Qawalish, for example, which rebel forces seized on July 6, the group reported seeing five houses on fire and a group of armed rebels loading up their truck with supplies taken from a shop. A few days later, nine more houses had been set alight.
HRW said clinics in three other towns had been looted and vandalized.
"We basically took everything," a rebel medic in Awaniya told the New York-based group.
The alleged violations by the rebel fighters, mostly armed civilian volunteers with a loose command structure, raises concerns about retaliatory violence as Gaddafi clings to power from his base in the capital, Tripoli.
While rights groups have accused Gadhafi's forces of violations, too, including indiscriminately shelling civilian areas, abusing detainees and laying land mines, the alleged abuses by the rebels may prove problematic for Nato.
While they claim Gaddafi needs to step out of power following human rights violations inflicted on civilians by his regime, the forces of the National Transitional Council now also seem to be violating human rights and persecuting civilians.
The rebels were also previously accused of persecuting sub-Saharan African migrants, after they were illegally detained under horrendous custody conditions.
HRW called on rebel commanders to hold their forces responsible for damaging civilian property.
"Opposition forces have an obligation to protect civilians and their property in the areas they control so people feel they can return home safely and rebuild their lives," said Joe Stork, the group's deputy Middle East and North Africa director.
HRW quoted one commander as acknowledging that some abuses had taken place, but denying that such acts were policy.
"If we hadn't issued directives, people would have burned these towns down to the ground," the group quoted Col. El-Moktar Firnana as saying.