Lord Digby Jones: Ed Miliband 'dislikes and doesn't understand' wealth creation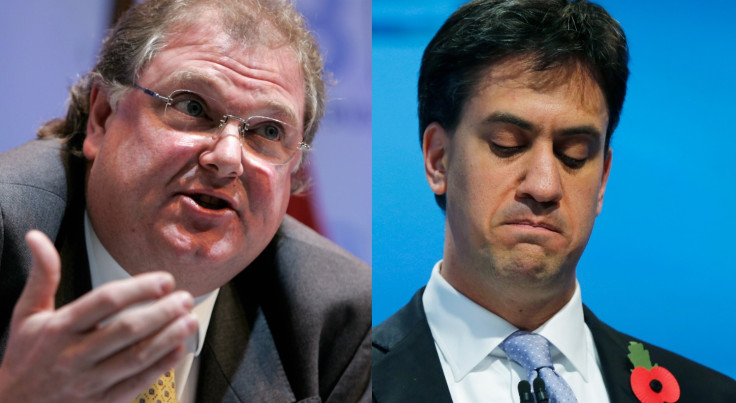 A former Labour trade minister has launched a scathing attack against Ed Miliband after claiming the Labour leader dislikes and doesn't understand wealth creation.
Lord Jones told IBTimes UK that, despite Miliband's ministerial experience and work under Gordon Brown in the Treasury, the Labour leader has "never done any business aspect work".
"Miliband does not understand it, he doesn't want to understand it, I don't think he likes it particularly, he's never done any businesses aspect work," he said.
"And yet he constantly talks about building a Britain that relies on spending money. But where on earth does he think he gets the money from? It doesn't grow on trees you know."
But Jones, who served in Brown's government between 2007 and 2008, praised the shadow chancellor Ed Balls and shadow business secretary Chuka Umunna.
"Umunna used to work in the city, Balls used to work with Brown in government and New Labour certainly understood creating wealth," he added.
Jones also said he has warmed to the Chancellor George Osborne over the last two years.
"I wasn't that impressed with him at the start. I remember I used the expression once: he looks like he's just come back off his gap year," he said.
"Then he had the omnishambles budget of trying to remove tax relief on donations to charities and all the Cornish pasties stuff. I do think his first couple of years were not brilliant.
"But he has learnt incredibly quickly. He does get it – he understands how you can't spend it unless you earn it. Osborne's last two years have been very good actually."
However, the former director-general of the Confederation of British Industry (CBI) was critical of British politicians over their lack of business credentials.
"The political class today have never done anything else in their lives – they've never worked in a hospital or a school, or in the army or the police," Jones argued.
"They've never taken a risk in business and they don't understand wealth creation. They've never sacked anybody, they've never hired anybody.
"They've never been in the real world. They sit in their bubble and they pass laws which affect us all."
Labour and business
Jones' comments come after Boots boss Stefano Pessina claimed Miliband would be a "catastrophe" as prime minister.
Miliband hit back at Pessina and called on him to start "paying his taxes" and alleged that the chief executive was in an "unholy alliance" with the Tories.
"Now, I've just got to say to you, I don't think people in Britain are going to take kindly to being lectured by somebody who's avoiding his taxes on how they should be voting at the UK general election," the Labour leader told Sky News.
He added: "You've now got this unholy alliance between the Conservative Party and people like him who are actually saying that the country can't change. I think we can change the country.
"I think part of my job is to say: 'We're going to stand up to these powerful forces who aren't paying their taxes, who are avoiding their taxes.' Because frankly, they have a responsibility."
Balls today (13 February), in the wake of the HSBC tax avoidance scandal, said a Labour government would make sure that bankers found guilty of misconduct would have their bonus payments withdrawn from as far back as 10 years ago.
"The current proposals to claw back bonuses are too weak and do not cover a long enough period of time," the shadow chancellor said.
"We will ensure people involved in misbehaviour and misconduct would have to give back their bonuses for at least a decade after they have been paid out."
He also promised a stricture that would force banks to publish the number of their employees earning more than £1m ($1.5m, €1.3m).
The pledge comes less than 90 days to go before the general election, with Labour one point ahead of the Tories (33% vs 32%) in the opinion polls.
© Copyright IBTimes 2023. All rights reserved.