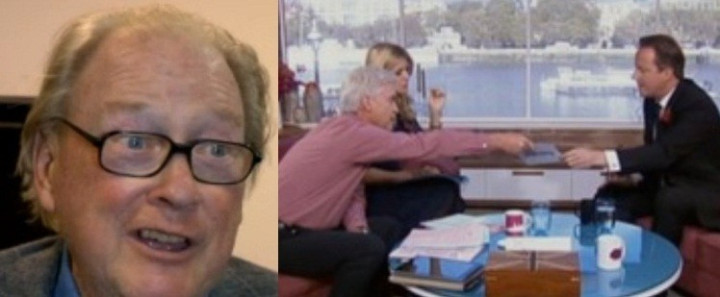 Lord McAlpine, the Tory peer falsely linked to child abuse, may sue ITV for £500,000 after This Morning presenter Phillip Schofield gave David Cameron a list of alleged paedophiles in which some names could be identified in a live broadcast.
A spokesman for McAlpine told the Sunday Times it was "quite clear" that the broadcaster would have to pay a larger settlement than the £185,000 he received from the BBC over a botched Newsnight report.
Schofield and ITV apologised following complaints that names on the list were briefly visible when the presenter gave it to the prime minister. Top of the list was McAlpine.
McAlpine said he could have gone after a larger settlement from the BBC after he was wrongly linked to a paedophile ring at the Bryn Estyn care home in North Wales, but was aware any settlement would be paid by the licence fee-payers. That is not case for ITV.
A source close to McAlpine told the Times: "With ITV they are planning to get considerably more than the BBC because they are a commercial organisation.
"Up to £500,000 is what they are looking at.
"This was done in a premeditated way in front of the prime minister."
McAlpine's lawyer, Andrew Reid, criticised Schofield. He told BBC Radio 4: "What he did was very, very low and I am amazed it was allowed. It sent everyone on to the internet - those who couldn't read what was there - to see who being referred to. At the top of the list was Lord McAlpine."
Schofield later apologised, saying it was the result of a "misjudged camera angle".
Peter Fincham, ITV's director of television, said: "I'm not happy that this happened. We have editorial processes and checks in place and they weren't followed."
ITV confirmed that the presenter and three other members of staff were disciplined but none was suspended or fired.
Meanwhile, comedian Alan Davies is the latest person who could face legal action after falsely naming McAlpine on Twitter in connection with child abuse allegations.
Davies, 46, tweeted to his 440,000 followers: "Any clues as to who this Tory paedophile is...?"
He subsequently retweeted a response naming McAlpine.
The peer's lawyers have identified an estimated 1,000 original tweets and 9,000 retweets which wrongly named him.
It is thought that many tweeters may be expected to pay £5 each to a children's charity to settle a case believed to feature the largest number of defendants in British legal history.
Sally Bercow, the wife of the Speaker of the House, John Bercow, was the first to receive a legal letter on behalf of McAlpine. She tweeted: "Why is Lord McAlpine trending? *innocent face*", two days after the Newsnight report was broadcast.