A school district in Los Angeles has pledged to return the three grenade launchers it received from a federal programme that hands down surplus military gear to local law enforcement.
LA Unified is just one of 26 school districts across the country that have participated in the Pentagon surplus programme, which was launched in 1991.
But the process of providing equipment and weapons to school police is criticised by many, who accuse the Defense Department of "fuelling the militarisation of local law enforcement", reports the Washington Post.
The programme came under particular scrutiny last month following a heavily militarised police response to violent protests in Ferguson, Missouri as a result of the fatal shooting by police of Michael Brown on 9 August.
LA Unified said in a statement that the 40mm weapons were not "essential life-saving items" for the city's school police, and went on to pledge to return the equipment to the federal government.
"We... would not utilise this weapon within a school environment", the statement read.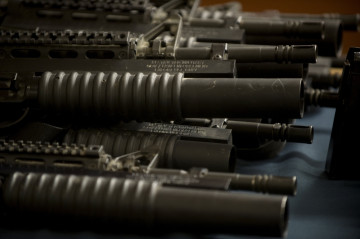 Civil rights advocates are now calling for an end to the programme, stating that such weaponry has "no place in school districts" in a letter to US defence heads on Monday.
A Washington Post review of data from 33 states and 120 schools, colleges and universities affiliated with the Pentagon programme found that items received included at least five grenade launchers, hundreds of rifles and eight mine-resistant ambush-protected vehicles, which are similar to tanks used in war zones.
Deborah Fowler, deputy director of Texas Appleseed, a social justice non-profit organisation, told Sky News: "We have already seen the way that much more common weapons – like Tasers and pepper spray – can be misused in school settings."
She added that black students and those with disabilities often suffered the brunt of excessive police force in schools.
Janel George, education policy counsel for the National Association for the Advancement of Coloured People (NAACP), said: "We saw in Ferguson how the use of military equipment intensified interactions between community members and police.
"Those same tensions are playing out in our schools between students of colour and school police where implicit bias, broad discretion, and little accountability are resulting in excessive use of force, expulsions and suspensions for minor offences, and referrals to the juvenile justice system."