Love Island's Jessica Shears is slaying again in a new raunchy photoshoot. The 23-year-old reality star gives clothes a break and covers her body with bright butterfly paint.
Shears is painted in purples, blues and greens, in the image of a butterfly. She shared her excitement with the Daily Mail and revealed how showing off her frame helped her with body confidence.
The reality star said, "I'm half painted and loving it. I feel so much more comfortable naked than I do in clothes. You can't hide yourself, it's just you as you are. You're not trying to cover up or anything."
"I really enjoy it. Being body painted is amazing. Body confidence on a high." The shoot is a way of showing off the results of her 3D-liposuction. The reality star will appear at Pro Beauty this weekend as the new face of the new procedure.
In the interview, she also opened up if she is planning to go under the knife in the future. She revealed, "I am quite happily got my boobs done and there was no other way to achieve my goal. I had so many issues with my first breast enlargement. There's no downtime. I know when I got my boobs done I was feeling sorry for myself for a good few days, if not weeks."
"But oh my God, I wouldn't go under the knife again. I said when I got my boobs done that I would never go under the knife again unless it's to give birth!," she candidly revealed.
Shears, who is set to marry fiancé Dom Lever later this year, admitted that her husband-to-be will love her no matter the size. "Dom would love me no matter what size I am, I'm quite lucky. We're both trying to get into shape for the wedding now so it helps to have things like this," she gushed.
"I brought him along and he said the body paint could be a new thing," she added of her fiance.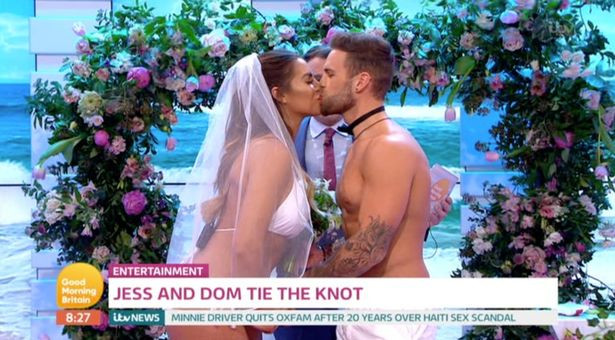 Recently, Jessica and Dom received a lot of backlash for getting married live on Good Morning Britain show in a bikini. Dishing about the live TV wedding joke, Jessica explained, "We literally thought it would be a bit of fun. We were approached about it and thought 'You know what, we were going to get married anyway. It's Valentine's Day so why don't we do something fun and light-hearted and celebrate our love in a jokey way.'"
"But the whole country took it slightly differently but that's OK, I enjoyed myself, Dom enjoyed himself. We had a lovely little fake ceremony," she added.