Lucas Perez turned down offers from Everton, Hull City, Villarreal and Sevilla before opting to join Arsenal, IBTimes UK understand. Yet, the Gunners already made an approach to secure his services during the January transfer window only to have to forget about his signing due to Fifa regulations.
The 27-year-old forward moved to the Emirates Stadium in the last days of the transfer window after proving to be one of the sensations of La Liga last season, scoring 17 goals and setting up a further 10 to his Deportivo la Coruna teammates to help his side avoid relegation.
Recent English reports suggest Arsene Wenger only turned his attention toward the Spaniard after failing to secure other top targets such as Jamie Vardy, or Lyon star Alexandre Lacazette, as the French boss had doubts over his worth.
However, last week, Perez surprisingly revealed the Gunners interest in his signing eventually piqued during last January's transfer window, before adding that he "couldn't leave" Deportivo then.
"The Arsenal offer came just days before the end of the transfer window. But I knew about the interest of Arsenal for a long time. They showed interest in me during the January transfer window but then I couldn't leave," Perez said. "They also showed interest in me after the end of La Liga (earlier this summer). But then, they have their way of working and the offer came only days before the end of the market."
IBTimes UK can confirm that Arsenal approached the striker in January after he had a flying start to the season at Deportivo, scoring 12 goals in the first 16 games of La Liga. However, the versatile forward "couldn't leave" Deportivo because Fifa regulations on status and transfer states that players can only feature for two clubs during a season.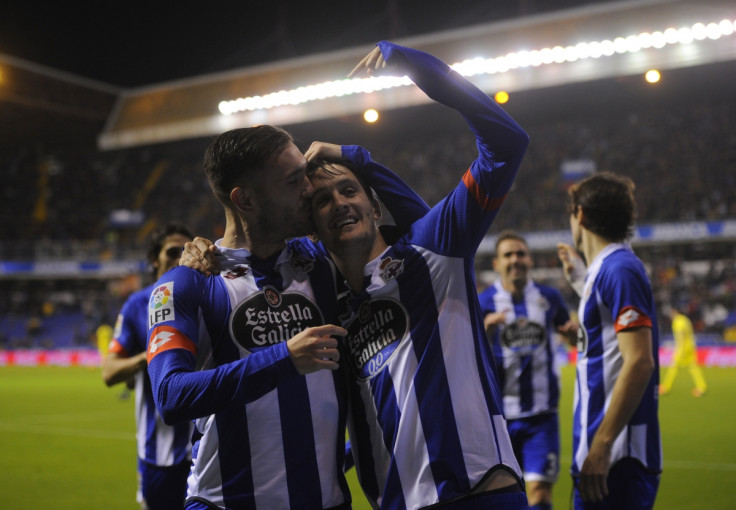 "Players may be registered with a maximum of three clubs during one season. During this period, the player is only eligible to play official matches for two clubs. As an exception to this rule, a player moving between two clubs belonging to associations with overlapping seasons (ie. start of the season in summer/autumn as opposed to winter/spring) may be eligible to play in official matches for a third club during the relevant season, provided he has fully complied with his contractual obligations towards his previous clubs," Fifa stated.
Lucas had eventually started the 2015-2016 season at PAOK, scoring two goals in two Europe League appearances for the Greek side before completing his €1.5m (£1.2m, $1.7m) transfer to Deportivo, after he already spent the previous season on loan at La Coruna.
Arsenal kept monitoring the striker during the second part of the season as Wenger still was looking to bolster his attack ahead of the 2016-2-17 campaign. Yet, while the French manager considered other alternatives, other clubs from La Liga and the Premier League tried to get his services.
Many reports linked Lucas with a move to Leicester City but IBTimes UK understand that Villarreal and Sevilla were eventually the first ones to make an offer to secure his services earlier in the summer, only to turn their attentions to Pato and Luciano Vietto respectively after the player decided to stay at Deportivo waiting for a better offer from the Premier League.
Everton, as it was widely reported, later joined the race with an offer to match his €20m release clause while Hull also expressed their formal intention to to make the Spaniard the Tigers record signing with a similar fee. Perez, however, decided to put those moves on hold because he wanted to play in the Champions League. His decision paid off in the dying days of the transfer window when Arsenal renewed their January efforts to sign him. Perez didn't think twice, at this point, and agreed to make the move to the Emirates Stadium.