There have been calls to hold Lucy Allan, Conservative MP for Telford, accountable for her actions after it was revealed that she doctored a constituent's email to add death threats. So who is Lucy Allan? And what exactly happened?
Allan was elected MP for Telford in the May 2015 General Election − the first Conservative MP in the constituency since its establishment in 1997. Prior to that, she trained as an account with PriceWaterhouseCoopers, before moving to local government where she worked in a number of positions in Wandsworth.
Until this month, Allan's main moment in the public eye came when she fronted the Family First campaign that highlighted flaws in the child protection services − a campaign close to Allan's heart after her own family's experience with the service.
But early in December things changed for Allan when she posted an extract from an email she had received from a constituent pseudonymously named Rusty Shackleton to her Facebook post. The last few lines of the email read: "Unless you've gone 'full Cameron' rendering you an empty shell of a human being containing nothing but pure venom and spite for anyone worse off than you, in which case there is no hope. Unless you die."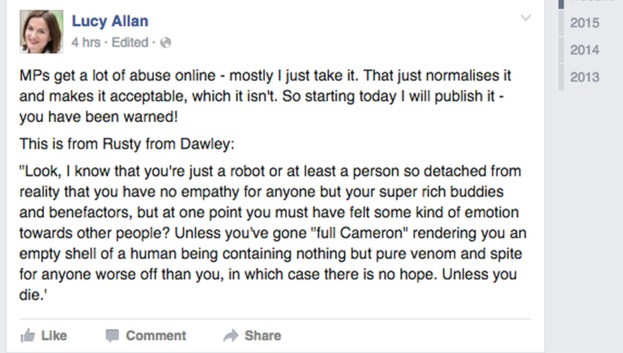 Except that's allegedly not what the email said.
"Rusty", later named as Adam Watling, the son of a local councillor, was quick to comment and say that the final line: "Unless you die," was not on his original email. He then shared a picture of his email, sent to try and dissuade Allan from voting in favour of bombing Syria.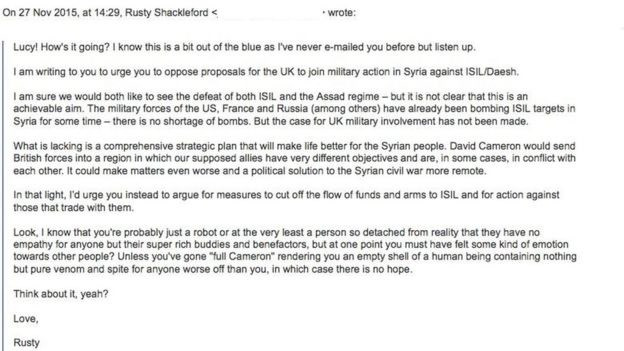 Watling told the BBC: "Wherever the 'unless you die' line came from, it was absolutely not from any of my correspondence to Lucy. I am a peaceful person and would never make a threat of that nature."
In response to rising allegations, Allan said that she had "posted actual comments made to me on the same day, although not in the same email."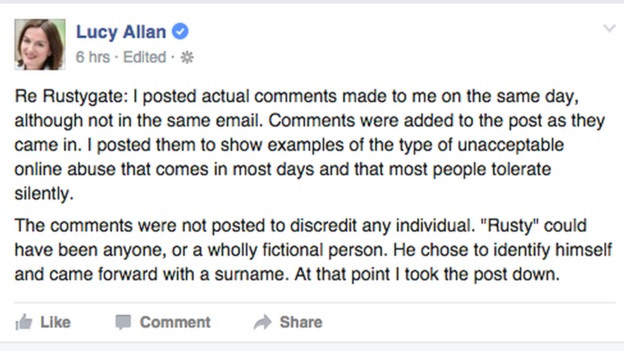 As the story gathered traction, Allan made her Facebook page private and stopped using Twitter. She released a statement saying there had been "confusion and misreporting" around the story and that she had not faked the death threat.
"This is emphatically not the case and not something, which I have ever done, or would ever do."
She also said that West Mercia Police are investigating a death threat that came through the phone to her Telford office. An anonymous man allegedly said: "Hi Lucy Allan, I just want to let you know that soon someone is going to f**king kill you, you f**king b*tch. Hope you die."
She went on to address the initial email further by saying that her conflation of two emails had "created a misleading impression" but that "this error was understandable" and that she had "acted responsibly and within my duties as an MP and my rights as a citizen."
On Saturday, a protest occurred in Telford's Southwater Square, calling for Allan to resign. One organiser told the Shropshire Star that they were planning further demonstrations.
Then Allan made another social media bungle when she uploaded another Facebook post, along with a video − both then deleted soon after. But the video and post were saved by followers with access to her now private Facebook page.
In the video, Allan says that the last week had been the "weirdest week of my political life" before going on to say that "it was never about my use of social media" and instead blaming activists "unhappy they didn't get the MP they wanted, frustrated they didn't get the government they wanted".
In the Facebook post, Allan says that there was "a small group of bully boy councillors" who had hounded her for years with "smears, fear, lies, threats, slurs and abuse". She goes on to name a number of current and former Telford councillors, including Adam Watling's father, Paul Watling. She says Alan is Paul's "creepy son who is a stalker and goes by various aliases."
"These public officials inventing a disgusting slur that somehow I faked a death threat," she said. This post and video are now deleted. Legal action over the late-night Facebook post could even be possible, a source told Political Scrapbook.
With escalating pressure on the MP, along with her continued skirmishes into social media infamy, how she deals with the coming days will certainly be important to her future parliamentary career.