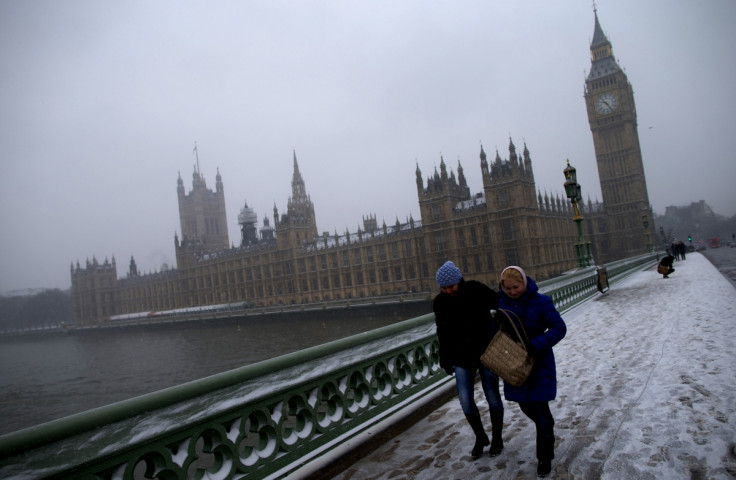 Festive cheer is warming the hearts of the Westminster elite, as politicos send out their much awaited Christmas cards. David Cameron has already posted his godless greetings with a post-general election picture of himself alongside wife Samantha outside Number 10, and now Jeremy Corbyn has released his first card as Labour leader.
The left-winger reused a 2009 stock image of snow-laden bikes next to Queensway Tube Station in London when the capital suffered transport issues due to the severe weather. Around three years before the snap was taken Corbyn made a cameo on BBC 2's Daily Politics show as a mince pie-loving Secret Santa.
George Osborne has also entered the Westminster Christmas card competition with a humorous cartoon from The Telegraph's Matt Pritchett. The image shows a snowman dressed in high-visibility gear outside the Chancellor's Number 11 residence – a mickey take on Osborne's numerous photo opportunities inside Britain's building sites.
But Keith Vaz's offering has won plaudits on social media. The Home Affairs Committee chair channelled the force to produce a Star Wars-themed season's greetings, with the Labour MP posing as Jedi knight and home secretary Theresa May mocked up as Princess Leia. View all of the Christmas cards mentioned below.
Loving this Christmas card which arrived today from @Keith_Vaz & members of @CommonsHomeAffs #XmasForceBeWithYou pic.twitter.com/S2VpxWoGUx

— Katy Bourne (@KatyBourne) December 11, 2015
George Osborne's Christmas Card Revealed https://t.co/P654IKlnGl pic.twitter.com/nmkKBVlDaq

— Guido Fawkes (@GuidoFawkes) December 10, 2015
The PM's Christmas card – David and Samantha Cameron return to 10 Downing Street following the 2015 general election pic.twitter.com/jc8I2JpPtq

— UK Prime Minister (@Number10gov) December 11, 2015
First look at @jeremycorbyn's Christmas card https://t.co/S0MVjlrOxd pic.twitter.com/ErJfFS8SHy

— LabourList (@LabourList) December 14, 2015