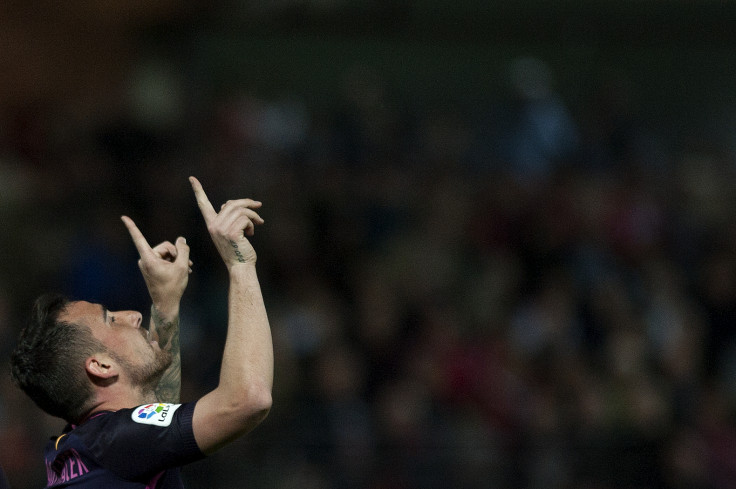 Luis Enrique has hailed the "sublime" Paco Alcacer after the Barcelona striker helped his side secure a 4-1 victory over Granada on Sunday (2 April), coming off the bench to replace the injured Rafinha Alcantara. Meanwhile, the boss was also full of praise for Neymar as the Brazilian also played a key role to keep the pressure on Real Madrid at the top of La Liga by scoring his 100th goal for the club.
Alcacer, 23, has been restricted to a peripheral role since his summer arrival from Valencia due to the presence of Lionel Messi, Luis Suarez and Neymar in the Barcelona attack.
The Spaniard started the game against Granada on the bench despite Lionel Messi's suspension but took advantage of Rafinha's injury in the 17th minute to prove his worth. Yet, despite being forced to play on the right wing, the former Valencia striker restored Barcelona's lead by netting for 2-1 before assisting Neymar for the fourth goal of the game in injury time.
"We thought he could play on the right wing following Rafinha's injury. I'm happy with his performance, goal and involvement. I'm very proud of him, I've been praising his attitude all season because he's always there for the team. He's been sublime, he's been involved in two goals and he's been a constant threat to Granada," Luis Enrique said.
Messi will be back to face Sevilla on Wednesday night (5 April) but Alcacer could have more opportunities to shine in the near future after Luis Enrique revealed Rafinha is set to be sidelined.
"It's disgusting news about Rafinha," the Barcelona boss said. "He's yet to be seen by doctors. It doesn't look very serious but he is going to be out for a few weeks so it's a big loss for us."
Barcelona also lost Arda Turan during the international break to another injury, but the boss has backed his squad to cope without the pair ahead of a crucial month, which includes a visit to Real Madrid on 23 April and the two legs of the Champions League quarter-finals against Juventus.
"It's clear that we'd like to have everyone available but we have to offset the losses with a squad like the one we have. Squads win titles," Luis Enrique said.
In more positive news for Barcelona Neymar continued his recent good form against Granada, stepping up in the absence of Messi while scoring his 100th goal for the club in just 177 appearances.
"'His numbers [show he is] a beast of a footballer, he's one of the most unbalancing players in the world and his signing by this club was a great decision," Luis Enrique said. "He was right to join Barcelona and the club were right to sign him. I hope he scores another 900 goals, so we can keep seeing him at Barcelona for many more years,"
"I value this win in a very positive way. The weeks after international games are always special, we have a lot of players who have had trips and are tired, and above all a game away from home always adds to the difficulty level, but I think we did very well," Luis Enrique concluded after Real Madrid previously beat Alaves 3-0 to remain at the top of La Liga. "[My players] have been saddled with loads of travel and time changes, but they responded well."