Liverpool have apparently fined Luis Suarez for biting Chelsea defender Branislav Ivanovic in Sunday's Premier League match at Anfield. The 26-year-old Uruguayan striker created the Reds' first goal and scored the second in an exciting 2-2 draw at Anfield but it was his ridiculous assault on the Blues' defender that made the headlines.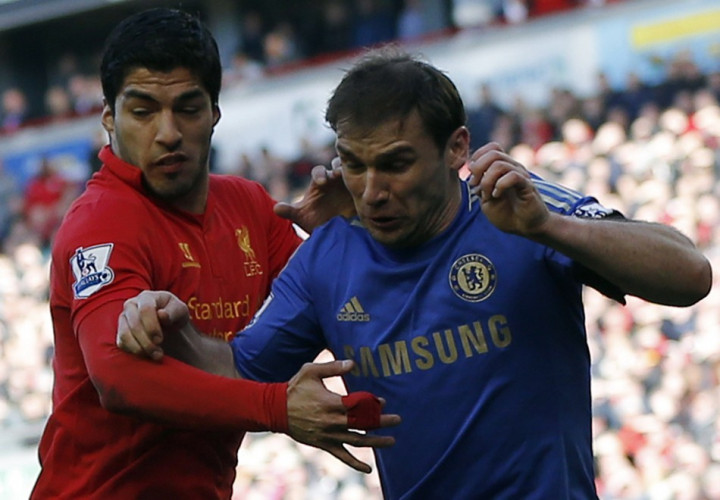 The former Ajax man has now tweeted: "For my unacceptable behaviour yesterday the club has fined me today, I have asked the club to donate the money to the Hillsborough Family Support Group for the inconvenience I have created to the Liverpool fans and to Ivanovic."
It is unclear, at this moment, what the extent of the fine is. Suarez was involved in an identical incident earlier in his career, when he bit a PSV Eindhoven midfielder (while playing for Ajax). The South American received a seven-match ban for that incident. The FA is believed to be reviewing Sunday night's biting and are expected to impose a heavy sanction on the controversial forward.
Suarez's actions have earned him the wrath of almost everybody connected with the sport. Former Liverpool midfielder Graeme Souness labelled him an "embarrassment" and the Anfield club's manager, Brendan Rodgers, has admitted his position at the club is under review.
Suarez was linked with a summer transfer to a number of top European clubs, with reports suggesting Bundesliga champions Bayern Munich were extremely interested in his services and would submit a mega-bid once former Barcelona boss Pep Guardiola assumed charge. However, it remains to be seen if the Bavarians, or indeed any other top club, are now willing to take Suarez on.
PFA to Offer Counselling
Meanwhile, the Professional Footballers' Association (PFA) will reportedly offer Luis Suarez anger management counselling, following his biting Branislav Ivanovic. PFA chief Gordon Taylor, who earlier labelled the incident "unacceptable", said: "We have to work hard on anger management now. We have trained counsellors in this field and we will be offering their services to Liverpool and the player to try to improve matters."