Liverpool striker Luis Suarez has no plans to leave the club after stating he wishes to remain at Anfield on a long-term basis.
The Uruguayan international signed a new long-term contract with The Reds in August after a season marred by an eight-match ban for racially abusing Manchester United full-back Patrice Evra and several accusations of diving.
Suarez has been dogged by further controversy this season regarding simulation, with his manager Brendan Rodgers pledging to take internal action against the striker after he admitted to diving during the Premier League game against Stoke City last year, while he was branded a cheat by many sections of the media after controlling the ball with his hand in scoring during Liverpool's FA Cup third round win against Mansfield.
Given the criticism from the media and supporters across the country, coupled with Liverpool's plight in attempting to qualify for the Champions League, a race in which the club lie seven points behind fourth place Tottenham Hotspur, it had been suggested that Suarez's head could be turned by Bayern Munich, who will be taken over by Pep Guardiola at the end of the current campaign.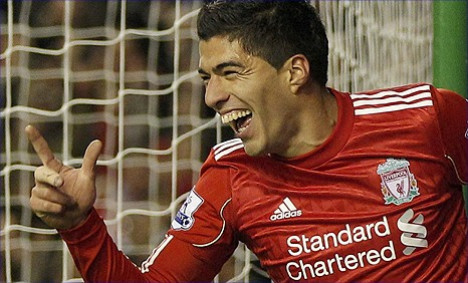 But Suarez said: "I hope (to be at Liverpool) for a very long time because it's a massive club that kids dream about playing for.
"I've been very proud to be at a club like Liverpool and to have made the decision to come here. In two years I've lived through some spectacular and very special moments that I will never, ever forget.
"There have been a few difficult times as well, but with the support of my family, the club and the fans, things have gone well for me.
"I do feel at home here. When I'm out and about, all I get is support and encouragement from the local people and that's very important, and when I come here to the club I feel like people have known me all my life. That also helps a great deal to making me feel so at home.
"I hope to be able to help out the team for as long as I possibly can while trying do something to make the club and the fans very happy."