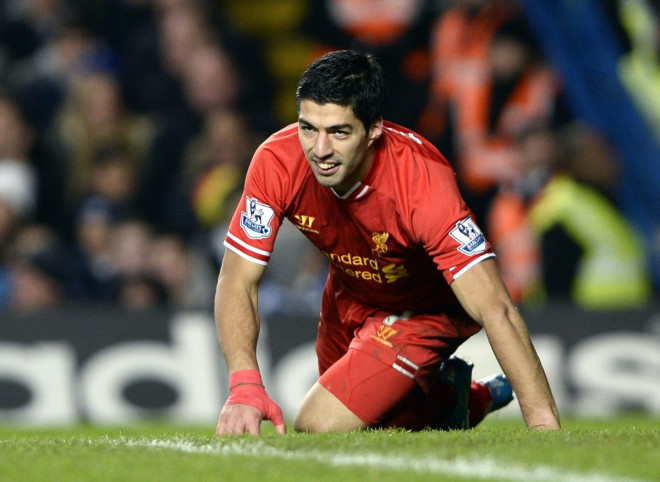 Ask any Manchester United fan and they will be quick to confirm that, yes, a year is in fact a very long time in football.
Seismic changes at Old Trafford aside, the 2013/14 Premier League season has distorted what we might have previously recognised as the implausible.
And should Luis Suarez lift the Premier League title with Liverpool this season, it will mark another extraordinary turnaround; this one for the player who became football's undisputed public enemy number one a year ago today.
Having already served an eight match suspension for racially abusing Patrice Evra the previous season and grown into the Premier League's poster boy for simulation, a chain of events sparked by one incident at Anfield appeared to dispel the faith even the loyalist Reds had in the striker.
As Suarez sank his teeth into the arm of Chelsea's Branislav Ivanovic towards the end of a pulsating 2-2 draw on 21 April 2013, his Liverpool future came under scrutiny like never before. Already maligned for past indiscretions, his 10 match ban and a recommendation to seek anger management counselling from the Professional Footballers' Association further darkened his prospects.
Attempts to force his way out of the club followed as the former Ajax striker pointed a finger at the English press who had "attacked unfairly" after his reckless actions. Transfer requests were put in, words were exchanged and it appeared the love affair between Liverpool Football Club and Luis Suarez was destined to come to a premature breakup. A state of affairs borne out of that bite.
A year on and things couldn't be different. On course to break the Premier League goal scoring record for a single season and with the club poised to end their 24 year wait for a league trophy, the striker has repaired the seemingly irreparable. After a career built on the sublime and the scandalous in equal measure, Suarez's name has claimed headlines and fuelled pub chat for good reasons only this term.
The PFA's recommendation that the player seek to control his anger on the football pitch is a compelling side story to Suarez's rise. It has not been disclosed by the player or the club what, if any, action was taken.
But if deeper psychological help and counselling has proven to be the key to unlocking Suarez's full potential while eradicating his demons, then it should be heralded as big a success as any this term.
It can't be forgotten that last year's bite wasn't out of the blue. His move to Merseyside followed an identical incident involving Groningen midfielder Otman Bakka, one that ensured the 26-year-old arrived on Merseyside with a reputation not just for scoring goals.
"Off the pitch I am nothing like the way I am on it, Suarez said in 2012. "The passion I have for football, it's very different, I've always expressed it like that, that's the way I play, but I also understand that I need to change."
He didn't change then – as his bite on Ivanovic demonstrated – but a spotless campaign suggests he is well on the way to doing so now.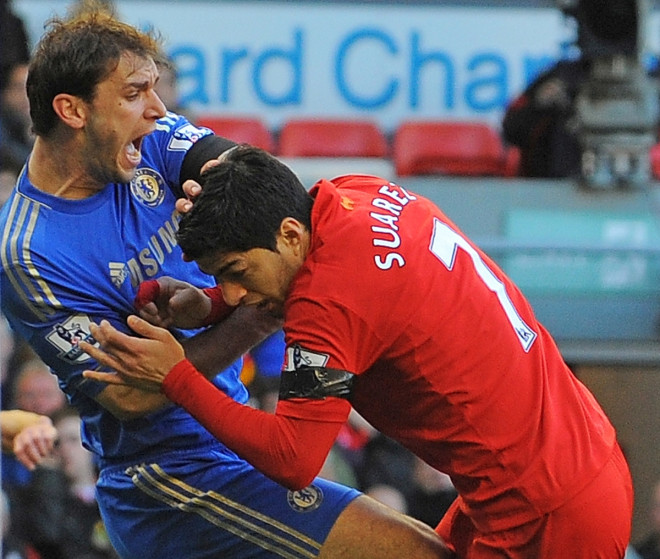 The role of Dr Steve Peters in this transition cannot be understated. The man credited with helping drive Bradley Wiggins to his Tour de France triumph and Team GB to extraordinary success in 2012 began working with individuals at Liverpool's Melwood training facilities in November of that year and his impact has been widely extoled by the players.
The affects of his presence have been far reaching with Jordan Henderson – now expected to start in midfield for England this summer in Brazil off the back of a career-changing season with his club – recently explaining how his guidance helped him overcome the pressure that came with a £20m move to Liverpool and transform him into an integral component of the club's success.
What impact Dr Stevens would have on Suarez attracted mixed responses. While some saw the Uruguayan as a lost cause deep in a hole he had merrily dug himself, those who have dealt with similar demons in sport were quick to predict positive results emerging from the relationship.
Snooker world champion Ronny O'Sullivan was one of them. Having worked with the sports psychiatrist amid his struggles to stay focused in long matches, he concluded that if Liverpool maintained a relationship with the former British Cycling advisor for "four or five years" then they would win the league.
But what works so successfully for some doesn't automatically transfer to others. Bradley Busch, director at performance consultancy Inner Drive who have worked with players from clubs including Tottenham Hotspur, West Ham United and Celtic explained: "Some players learn through natural experience, through their own self-reflection where they will pick up things pretty quickly.
"Some people will benefit more from a one on one approach where either a coach or a sports psychologist who has expertise in these areas who can help them identify unhelpful thoughts, feelings and behaviours and redirect them to the task at hand."
During a summer consumed by speculation surrounding the striker it was seemingly a Faustian agreement between Liverpool and Suarez that kept him on Merseyside. If the striker's hunger for Champions League football was fulfilled, the player would remain at the club. If not; an exit beckoned.
Suarez's late equaliser on that fateful day against the Blues last year – a mere footnote given the furore that would follow – solidified his club's position in seventh place in the Premier League. A repeat this season would have surely confirmed his exit. But the remarkable turnaround the club have enjoyed this season has firmly put concerns of his departure to bed, something Brendan Rodgers will take full credit for.
That success has been built on the aura of positivity emanating from the red half of Merseyside – something that was missing upon Suarez's arrival in 2011 - and appears to have helped temper the wild streak that marred everything so extraordinary about him.
"Some people will automatically use success to spur them on for future successes, I think it largely depends on the individual and the environment," Busch continued.
"I strongly believe that an environment of young players or athletes such as Manchester United in the 90's where there was clearly a very successful blue print of how to succeed through coaching philosophies and the older more successful pros setting an example is key. I think success breeds success in that environment." Such an environment has arguably embraced Suarez over the past 10 months.
A year on from the incident that amazed, disgusted and bewildered in equal measure, Suarez stands as the catalyst behind a side who are five points clear and within three games of Premier League glory. And if he has finally laid to rest the issues that have so often threatened to undermine his standing as one of the finest footballers on the planet, then it could be followed by many more.