Liverpool striker Luis Suarez has been banned for 10 matches for biting Chelsea's Branislav Ivanovic, the Football Association have confirmed.
The Uruguayan admitted a retrospective FA charge of violent conduct after an incident between the two players was missed by referee Kevin Friend during the 2-2 draw at Anfield, but questioned the ruling that a mandatory three-match ban would not suffice.
But the FA have overlooked the appeal and after a video hearing, have ordered Suarez to miss the next ten games, which includes all of Liverpool's remaining matches this season against Newcastle United, West Ham United, Everton and Queens Park Rangers, as well as the first six matches of the 2013/14 campaign.
Suarez has until midday on Friday 26 April to appeal the sanction.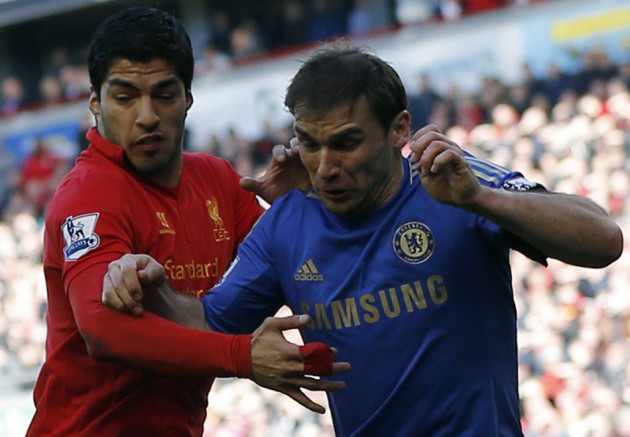 "A three-person Independent Regulatory Commission today upheld The FA's claim that a suspension of three matches was clearly insufficient and the player will serve a further seven first-team matches in addition to the standard three," an FA statement read. "The suspension begins with immediate effect."
After the incident, Suarez was fined by Liverpool and released two separate apologies, while manager Brendan Rodgers and managing director Ian Ayre publically condemned the 26 year old.
However, despite the public disapproval from Liverpool following the episode, Ayre has spoken of his 'surprise' at the severity of the ban.
"Both the club and player are shocked and disappointed at the severity of today's Independent Regulatory Commission decision," Ayre said.
"We await the written reasons tomorrow before making any further comment."
Suarez was banned for seven games by the Dutch Football Association in November 2010 for biting PSV Eindhoven's Otman Bakkal, and 12 months later, the ex-Ajax man was banned for eight games for racially abusing Manchester United defender Patrice Evra.