Damien Comolli believes Liverpool cannot keep Luis Suarez at Anfield, particularly since they cannot offer the Uruguayan Champions League football. The Reds' former director of football, Comolli was the man who oversaw Suarez's transfer from Ajax in January 2011.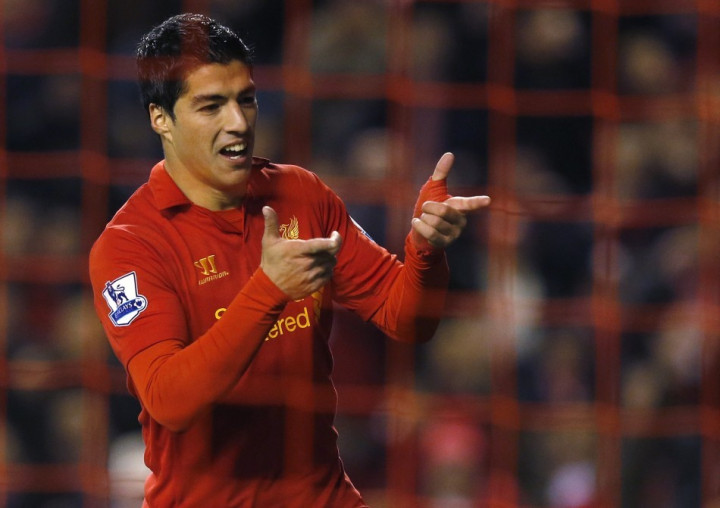 "When I was there, we knew it would be hard to keep players like [Jose] Reina, [Daniel] Agger, Luis [Suarez] if we couldn't get into the Champions League. Luis is extremely ambitious and with all due respect to Liverpool, they're a top-eight side, not top-four like Arsenal," Comolli said.
Arsenal have been strongly linked to the 26-year-old in recent weeks. The Gunners have made at least three bids for the South American, with the last worth in excess of £40m. So far, Liverpool chiefs have held firm, refusing any talk of a transfer and repeatedly stating they are unwilling to enter negotiations for Suarez's sale.
When pushed, Brendan Rodgers has valued Suarez at considerably more than the Gunners' offers, first saying the striker was worth £55m and then upping the price to £100m after rumours of Real Madrid bidding £105m for Tottenham winger Gareth Bale.
However, another former Liverpool executive - ex-managing director Christian Purslow - has backed the Reds' stance. He believes Suarez is the only reasonable guarantee of a challenge for Champions League football in 2015.
"If the only offer is from Arsenal I would expect Luis Suarez to stay at Liverpool. It's disappointing as a follower of Liverpool that the player has so publicly and so early in the close season made it pretty clear that he would like to move on," Purslow told BBC Radio 5 live.
"I'm pretty realistic about these things and it's not that unusual for a player of that magnitude to want to play at Champions League level. That appears to be his motivation," he added.
Suarez and Tottenham
There has been talk of a surprise last-minute bid from White Hart Lane for Suarez's services. However, Comolli feels there is very little chance Andre Villas-Boas will succeed, given they cannot provide Champions League football either.
The Mail Online has linked Suarez to Spurs as one of several big-name signings to arrive, if Bale completes a world record transfer to the Santiago Bernabeu.
"I think there are two issues. One is his wages. I don't think Spurs, unless they totally break their wage structure, can afford the money he is on at the moment. I don't think he has agreed personal terms with Arsenal but I'm pretty sure they will be willing to pay him a lot of money and I don't think Spurs will be able to match that unless they decide to make a big exception," he told talkSPORT.