Luis Suarez a True Blood Vampire? Memes of Uruguayan Striker's Biting Scandal Sweep Twitter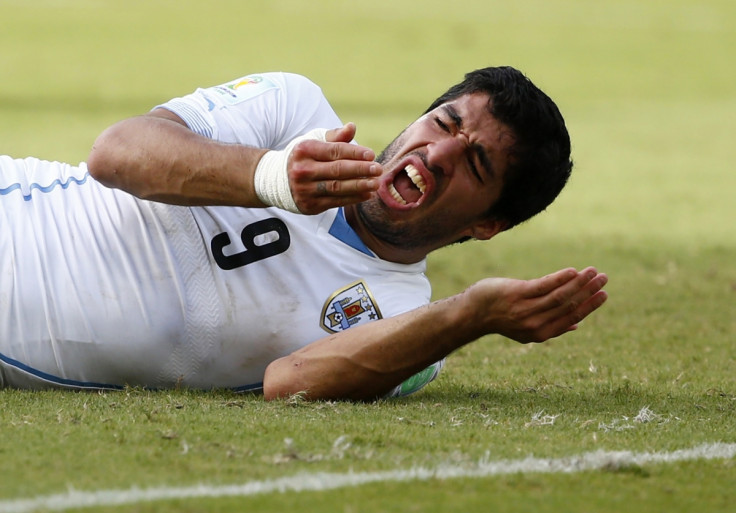 Uruguay striker Luis Suarez is in the news once again for his infamous biting spree. The Uruguayan star is in trouble after allegedly biting Italy defender Giorgio Chiellini during a crucial World Cup match.
The biting scandal is currently the most talked about event on twitter.
Television replays showed Suarez seemingly biting the Italy defender during a tussle in the Italian penalty area. The incident happened during the 81<sup>st minute of the game.
An angry Chiellini showed the visible biting marks on his shoulder, demanding action against Suarez. Uruguay scored the winning goal a minute later, sending Italy out of the tournament.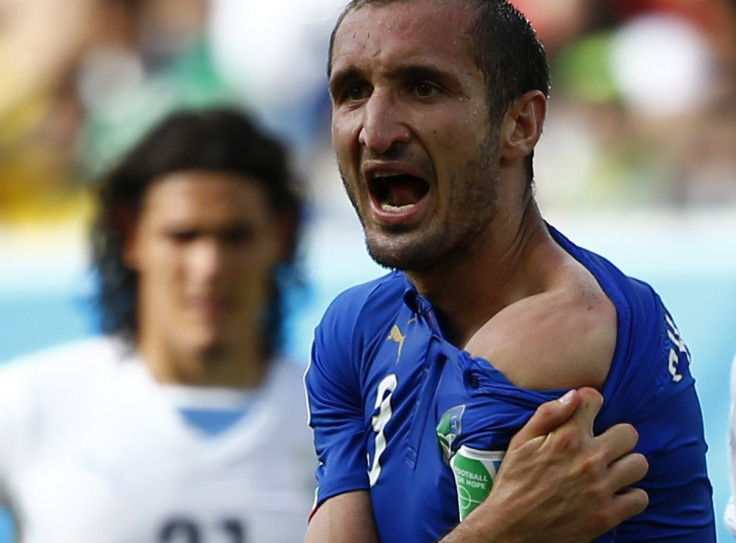 Fifa has launched an investigation into the biting scandal, which is touted as the most shocking incident in this World Cup. If proved guilty, Suarez may face a ban of up to 24 months.
Suarez had been twice handed bans for biting in the English Premier League.
As the incident became the most talked about thing on twitter fans and critics posted memes comparing Suarez with vampires and cannibals.
Famous brands like Nandos and Sneakers too are using the incident to market their products.
Below are the tweets.
The Luis Suarez biopic is gonna be awesome: pic.twitter.com/hdFxFN44OR

— Will Brinson (@WillBrinson) June 24, 2014
Hey @luis16suarez, if you're that hungry, why not get your teeth stuck into something really tasty? pic.twitter.com/TPrPoC6ljt — Nando's (@NandosUK) June 24, 2014
Hey @luis16suarez. Next time you're hungry just grab a Snickers. #worldcup #luissuarez #EatASNICKERS pic.twitter.com/3RAO537HjW

— SNICKERS® (@SNICKERS) June 24, 2014
Out of all the Luis Suarez biting memes this one takes the cake for me! #URU pic.twitter.com/PDjvAJhRFx — Isaac Luken (@Isaac_Luken) June 24, 2014
How Suarez sees every opponent's jersey: pic.twitter.com/oPgEPL9n38

— DJ Gallo (@DJGalloEtc) June 24, 2014
THREE! Three Suarez bites! AH-AH-AH-AH-AH-AAAAAAA!!!!! #WorldCup pic.twitter.com/90LsNGb3td — Setting the Table (@settingthetable) June 24, 2014
Jaws 3 starring Luis Suarez pic.twitter.com/gSzgUffl9K

— Martin Thomas (@m4rtinthomas) June 24, 2014
So stoked for this remake. pic.twitter.com/aPlDWDKKT8 — SB Nation (@SBNation) June 24, 2014
Luis Suarez kit for the upcoming games. #WorldCup pic.twitter.com/GEaWS2jxOh

— ReZ (@ReZFootball) June 24, 2014
Just some light reading on the way to work! #ITAvURU #WorldCup #Suarez @thebleague pic.twitter.com/bIjd0lLgrj — Dougiejam (@Dougiejam) June 24, 2014
The Walking Dead mi favorito de los memes de @luis16suarez http://t.co/mAdK5h7AGQ pic.twitter.com/cpbyroW628

— Saris Bello (@sarisbello) June 24, 2014
© Copyright IBTimes 2023. All rights reserved.