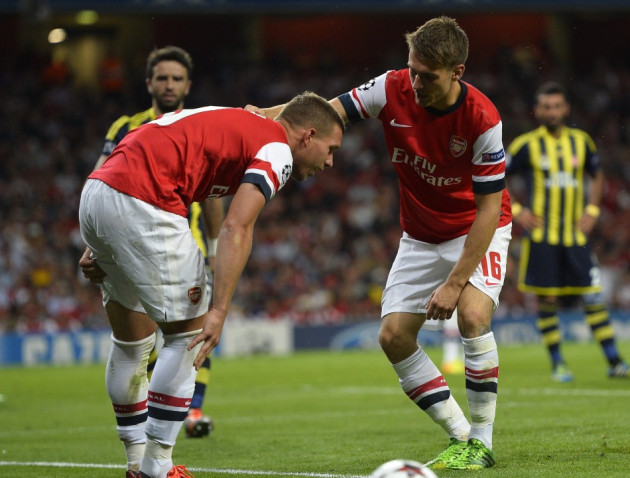 Arsenal have been dealt an early blow this season with the news that Lukas Podolski has been ruled out for ten weeks with a hamstring injury.
The German international was taken off in the second half of the Gunners 2-0 win over Fenerbahce in their Champions League qualifier at the Emirates on Tuesday evening, a sour note as the club confirmed their presence in the group stages of this year's tournament.
Arsene Wenger initially confirmed that Podolski would miss three weeks of action, immediately ruling him out of Sunday's north London derby against Tottenham Hotspur.
However the Arsenal boss now fears his forward could be ruled out until November, with his hamstring injury more severe than originally anticipated.
"It's bad news about Lukas Podolski as he will be out for eight to 10 weeks," Wenger confirmed through the club's official website. "His hamstring is much more damaged than we thought at the start.
"It is very disappointing and we have paid a very heavy price for that win (over Fenerbahce). We have to patient now."
Podolski had enjoyed an impressive start to the campaign, scoring twice against Fulham at Craven Cottage last Saturday as the German helped ease the pressure on his manager. Calls for Wenger to strengthen the club's forward options have been rampant this summer and will only increase with the 28-year-old now side lined.
Ahead of the visit of Andre Villas-Boas' side at the Emirates this Sunday, Wenger has also confirmed that Aaron Ramsey and Jack Wilshere will both be involved after minor injury concerns this week.
Wilshere in particular was on the receiving end of some particularly heavy challenges on Tuesday as Arsenal cruised to a 5-0 aggregate win over the Turkish giants, but the England midfielder has come through unscathed.
The Arsenal boss also confirmed that Thomas Vermaelen could be in line for his return against Sunderland following the international break.