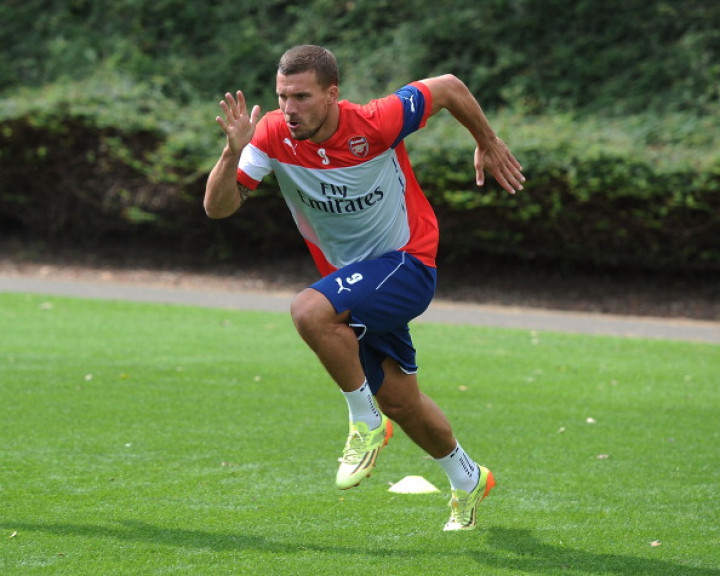 Arsenal striker Lukas Podolski has opened up regarding his lack of playing time at the club and admits that he will speak to Arsene Wenger regarding his situation.
The German international has hardly played a part for the Gunners in the current campaign and is yet to start a game in the Premier League.
The now frustrated forward has hinted several times in the last couple of months about looking for a move away, if his current situation does not improve.
His national team manager Joachim Low has also urged him to rectify his situation and make sure he plays regular football.
Podolski had earlier reiterated his desire to speak to the French manager regarding regular playing time, but did not threaten to leave the club. Instead, he later declared his love for the club and the city of London.
"I have to speak to Wenger because the situation at the moment is not good for me. I have to play. I am happy at Arsenal and happy in London but I don't have the chance to play," Podolski said, as quoted by the Express.
"I know that only 11 can play, but when you come on for just 10 or 15 minutes and it happens every week then you cannot be happy. I am happy with the team, the coach and the club, but I am not playing."
The 29-year-old forward respects the coach's decision and admits that at the end of the day it's Wenger's call on who plays and who does not.
However, despite the striker's calls for talks the Gunners boss has insisted that he will not let Podolski leave during the January transfer window.
"When I am ready and 100 per cent I could play in the first XI. It is the coach's decision, not my decision. Every player wants to play, every player wants to play in the middle, every player wants to score goals. But it is Arsene Wenger's decision. He picks the first XI and he picks the tactics. I cannot change the style or tactics of the team," Podolski concluded.