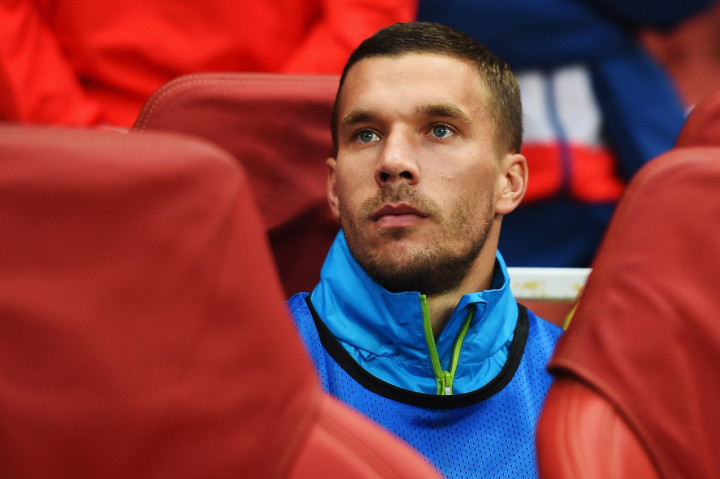 Arsenal striker Lukas Podolski has again fuelled talks of an imminent departure after he revealed that he will hold talks with the manager and the club to sort out his future.
It is not the first time that the German international has spoken about looking for a new club, after only recently claiming that he was not happy with his situation at the club.
Podolski has been left on the sidelines this season and is yet to start a Premier League game for Arsenal and has only had 37 minutes of game time in the league.
The former Cologne forward, who has a contract with the north London side till 2016, has revealed that despite being happy in London and having a good relationship with the Gunners' fans, he is not happy to sit on the bench and just collect his paycheck.
"I have a contract with Arsenal until 2016. I feel at home in London and get on with the fans very well," Podolski said, as quoted by the Mirror.
"Nevertheless, I will try to speak with the coach and the club to see what is best for all parties. I want to play football and am not the type to sit on the bench until my contract expires," the 2014 World Cup winner added.
However, Arsene Wenger has brushed off claims that Podolski will leave Arsenal in the near future, claiming that the German striker is an important part of the squad.
The Frenchman was talking post Arsenal's 2-1 win over Anderlecht in the Champions League, a game in which Podolski scored the winner. He understands that the striker is frustrated at the lack of game time, but maintains that everyone will play a part as the season goes on.
"He is frustrated and I understand that of course. But he's important as well and he showed that tonight and he will be important in the coming months. It took him a while to get back to a good physical level [after the World Cup] and now he's nearly there," Wenger said, as quoted on Arsenal's official site.
Reports suggested that Podolski was close to a move away from the club in the summer, but Olivier Giroud's long-term injury put paid to any chance he had to complete his transfer.
However, Wenger has rubbished such claims and confirmed that he was not close to leaving and also underlined his quality through his international pedigree.
"He was never close to leaving. He has 115 caps for Germany - that is not a coincidence, that shows you his quality," the Gunners boss added.