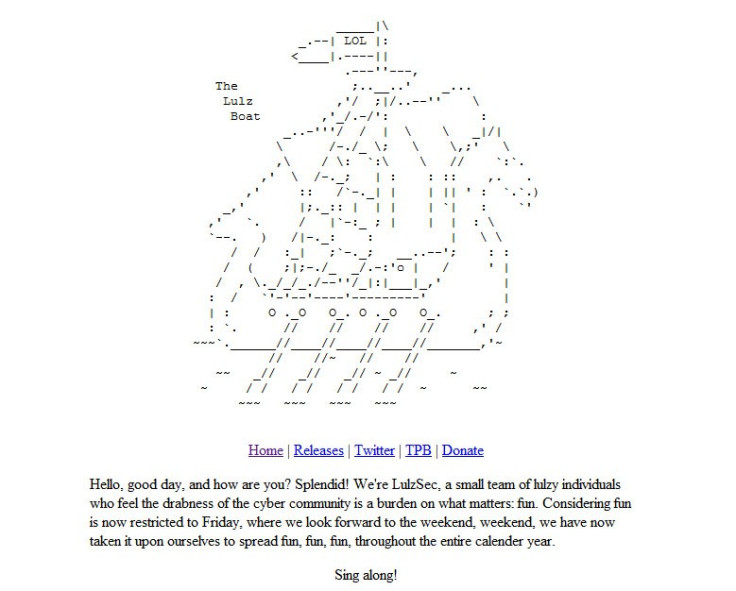 While LulzSec continues its Operation Anti-Security campaign against the world, rival group Team Poison has issued a statement promising to unmask LulzSec's members.
The group reported its intention to reveal all LulzSec's members true identities earlier this month. Speaking to Fox News a member working under the pseudonym Hex0010 commented "We're here to show the world that they're [LulzSec] nothing but a bunch of script kiddies.
"We're going to let them do what they do. Then we're going to do what we do", adding, "We're going to hit them hard."
The claim comes just as LulzSec announced its new Operation Ant-Security campaign. The operation has seen LulzSec team-up with its 4Chan-born sibling Anonymous to help rebel and protest any and all cases of internet censorship and moderation through a series of coordinated cyber attacks and hacks.
Operation Anti-Security has already seen LulzSec claim responsibility for hacks and attacks on Arizona law enforcement, the U.K.'s Serious Organised Crimes Agency and two Brazilian Government owned websites.
In the midst of LulzSec's first attack authorities arrested Ryan Cleary for suspected involvement in several of LulzSec's operations. Since the arrest, while LulzSec has adamantly denied Cleary's membership, the 19-year-old has been charged and appeared in Court. British police were granted an additional three days to question Cleary after the hearing.
In his statement Hex refuted LulzSec's claims that Cleary was not a member. Hex commented to Fox News, "You can say he's one of the people that ran it, you can say he's a middleman. Depends on how you look at it. I think he's a middleman."
Team Poison has also claimed responsibility for an attack on suspected LulzSec member Sven Slootweg's website.
Team Poison isn't the first group to have made such claims. Already "cyber vigilante" outfit Team Ninja made a similar claim posting alleged names, addresses, phone numbers and at points pictures of individuals it claimed were LulzSec members.
The individuals named included a 34-year-old Brazilian named Sabu, Slootweg, a freelance journalist named Barret Brown and a U.S. Marine name Casey Gardiner -- the truth of these claims is yet to be verified.
The fact that Team Poison is targeting LulzSec has not been universally hailed as good news. The hacking group has an extremely checkered past. It is believed to have connections both with the Mujahdeen Hacking Unit and Pakistan Cyber Army.
The Mujahdeen Hacking Unit was the hacking group that targeted Facebook late last year.
Additionally both groups are generally believed to hold strong anti-America, anti-Israel and anti-India ideologies.
Team Poison has also been constantly speculated as having overtly zealous religious leanings -- a fact that may make several governments uncomfortable with the group's involvement.
In the same interview with Fox Hex commented on the topic, ""We're a group that consists of political hackers," elaborating "A lot of people consider us being a religious type thing -- in reality it's not. When international governments are doing wrong and trying to hide from it, we're there."
Many analyst's have already speculated that Team Poison's targeting of LulzSec could be born of "professional jealousy".
If true, then Team Poisons new involvement could be more harmful than helpful. The attack on LulzSec could lead to revenge attacks from both LulzSec and its comrade in arms Anonymous.
Additionally, as demonstrated by the laundry list of hacks and cyber attacks Team Poison is suspected of, the hatred for LulzSec could turn into a game of one-upmanship, with each group trying to hack a bigger target than the other.
Team Poison is yet to release the information it promised on Fox News.