Motorists are being warned of long delays on the M1 after a crash involving two lorries and a minibus killed at least eight people. The crash happened at 3.15am on Saturday (26 August) between junctions 15 and 14 on the southbound motorway near Milton Keynes.
Four people including a child were rushed to hospital and two men were arrested and are in custody on suspicion of causing death by dangerous driving. One of them, a 31-year-old man from Worcestershire has also been suspected of drink driving.
Thames Valley Police warned the stretch of road where the crash happened, which is just outside the town of Newport Pagnell, will be closed for a "significant amount of time" while an investigation into the cause of the incident takes place.
Highways England said road users should allow extra time for journeys. Sports fans heading to Silverstone for the Moto GP in Northamptonshire were caught in delays while travelling rugby league supporters making their way to Wembley Stadium for the Challenge Cup final between Hull FC and Wigan could be affected.
"Motorists are advised to continue to avoid the area while the emergency services work at the scene," Thames Valley Police tweeted. "The southbound carriageway between J15 and J14 is currently closed and is likely to remain closed for a period of time."
Diversions are in place but it is not known for how long they'll be there. An alert from the AA said: "Road closed, exit ramp closed and slow traffic due to serious accident , two lorries and a mini-bus involved on M1 Southbound between J15 A508 and J14 A509.
"Detour in operation - follow the Hollow Circle. Several vehicles have been involved in a major crash. Recovery and investigation work is ongoing. Affecting traffic between Northampton and Milton Keynes including people travelling to the MotoGP"
Highway England were already anticipating heavy traffic this weekend and suspended 450 miles of roadworks over the Bank Holiday in a move that left 98% of the nation's motorways and major A-roads roadwork-free. It is estimated that 4.4m separate journeys will take place on Saturday alone.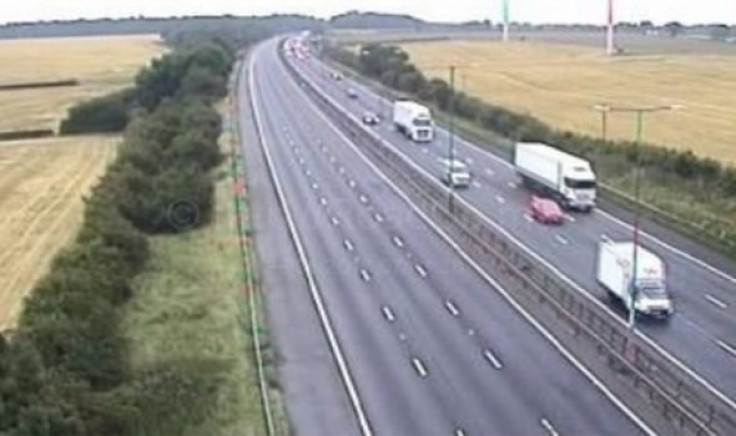 *Update - the M1 southbound between J15 and J14 reopened at 1.30pm