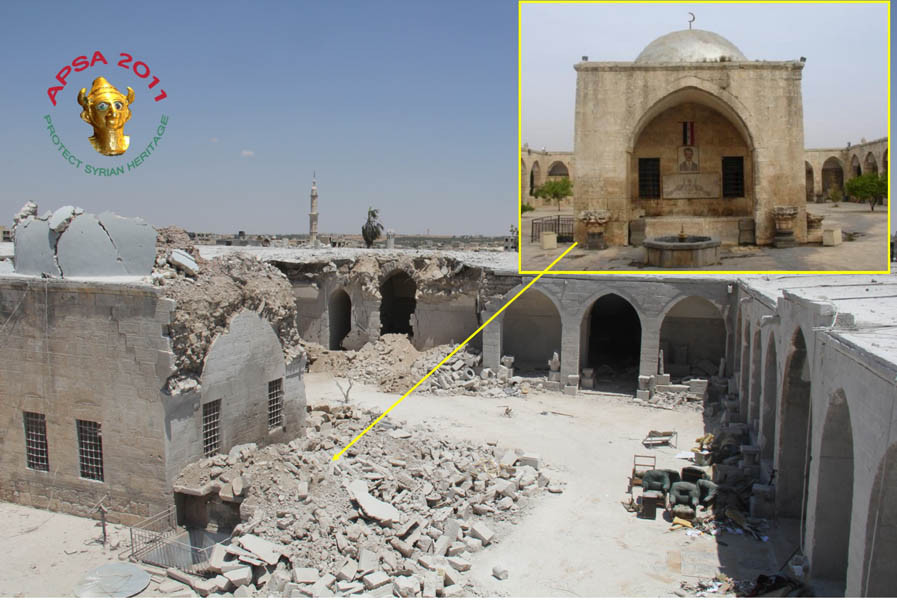 The museum building and several mosaic panels were damaged by shrapnel in the northern rebel-held town of Maaret al-Numan.
The Association for the Protection of Syrian Archaeology said the museum "suffered serious damage caused by two explosive-packed barrels dropped by Syrian army helicopters".
The non-governmental organisation published pictures of the museum, located in an ancient Ottoman caravanserai, showing entire walls once covered with mosaics collapsed into rubble.
Several mosaic panels were badly broken in the eastern portico of the museum and two were knocked off their display by the sheer force of the bomb blast.
The head of Syria's antiquities, Maamoun Abdulkarim, confirmed the damage at the museum, but declined to say who was responsible.
This is "a new tragedy for Syrian heritage," said Abdulkarim and called for the country's museums to be "neutral zones" in the war.
"No one, from any side, should harm that which forms our country's history," he said.
The museum building and surrounding complex, including a historic mosque, were also badly damaged, according to the APSA, with pictures showing several pillars destroyed and sections of roof that had caved in.
The United Nations last year warned that nearly 300 sites of untold value for Syria and human history have been destroyed, damaged or looted in the country's conflict.
Maarat al-Numaan in northwestern Syria, is 33km south of Idlib and 57km north of Hama, with a population of around 60,000. It is located at the highway between Aleppo and Hama and near the Dead Cities of Bara and Serjilla.
The museum is home to an outstanding collection of Roman and Byzantine mosaics from the 3rd to 6th centuries A.D. The fragile mosaics in the museum are at constant risk from both random bombing and deliberate damage and looting.
A team of Syrian specialists in archaeology had covered the mosaics in March with a protective layer of glue and finally piled sandbags around the walls in hopes of preserving them from attack.
The museum is famed for its mosaics from the Dead Cities, the Great Mosque of Maarrat al-Numan, a madrassa built by Abu al-Farawis from 1199 and remains of the medieval citadel.